Carrefour Names Deputy CEOs as Plassat Recovers From Surgery
Andrew Roberts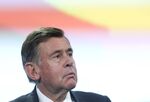 Carrefour SA said Chief Executive Officer Georges Plassat is convalescing after undergoing surgery and named two deputies to help him run France's biggest retailer.
Chief Financial Officer Pierre-Jean Sivignon, 58, and General Secretary Jerome Bedier, 59, will add the role of deputy CEO to their current responsibilities, Boulogne-Billancourt, France-based Carrefour said today in a statement.
The two executives "remain in close contact" with 65-year-old Plassat, according to the company, which also appointed Georges Ralli as vice chairman. The CEO is recovering well from the operation, which took place a few days ago, according to a person familiar with the situation, who asked not to be named discussing private matters.
Carrefour declined to comment on the nature of the surgery, or on when Plassat will be back.
While Plassat has a right to privacy, Carrefour should clarify how long he's likely to be absent, according to Bruno Monteyne, an analyst at Sanford C. Bernstein in London.
"It's important more for investor sentiment," Monteyne said. Should Plassat remain absent for the longer term, "that would potentially be negative."
Carrefour shares rose 0.6 percent to 28.27 euros as of 12:17 p.m. in Paris.
Since joining in 2012, Plassat has led a recovery at Carrefour, focusing on price and convenience in France to fuel growth amid weak consumer spending and exiting some international operations. Carrefour will be ready to start an initial public offering of shares in its Brazil unit this year, the company said last month.
Sivignon joined Carrefour in 2011, while Plassat brought in Bedier in 2012. Each has been handed extra responsibilities since then, with Sivignon overseeing southern Europe and Bedier supervising international partnerships
Before it's here, it's on the Bloomberg Terminal.
LEARN MORE