Carney Says U.K. Is Just Starting to See Pickup in Wage Growth
Scott Hamilton and Svenja O'Donnell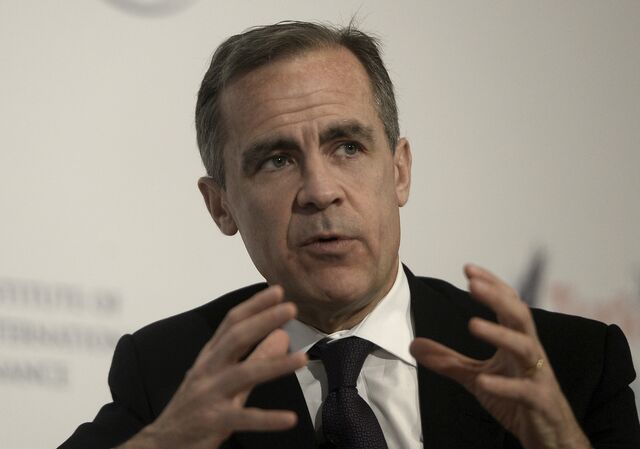 Bank of England Governor Mark Carney said the U.K. is just beginning to see a pickup in wages, a key metric for policy makers as they debate the timing of the first interest-rate increase since 2007.
"In the U.K. we've had a lot of job creation, not a lot of productivity, but a lot of job creation and relatively muted wage performance," Carney said in Istanbul on Monday. "We're just starting to see the turn in wages that we need for a sustainable recovery."
The comments come three days before the governor presents the BOE's latest economic outlook, when the bank may forecast an inflation rate below zero for the first time since it started the quarterly projections more than 20 years ago. All 19 economists in a Bloomberg survey say the BOE will cut its 2015 inflation forecast, and investors have reacted to the weak price outlook by pushing out bets for the first rate increase to 2016.
The Monetary Policy Committee kept the benchmark rate at 0.5 percent this month, where it's been since March 2009.
Plunging oil prices drove inflation down to 0.5 percent in December, matching a record low. That's more than a percentage point away from the central bank's 2 percent goal and means Carney will have to write an open letter to the Chancellor of the Exchequer George Osborne explaining the deviation.
"Later this week I'll have an exchange of letters with the chancellor which explains how we intend to get inflation back to target from below target for the first time," he said. "What's important there is transparency, clarity and timeliness of that return to target."
Reform Fatigue
The governor was speaking at an Institute of International Finance conference hosted to coincide with the meeting of finance ministers and central bankers of the Group of 20 nations in Istanbul. In his capacity as chairman of the Financial Stability Board, Carney said he was concerned about a growing weariness among authorities to implement regulation.
"I worry about reform fatigue, not surprisingly, both at the FSB and more generally," he said. "Most of the toughest reforms are micro reforms that can have big political coalitions against them but have payoffs far off into the future."
Carney said the benefits of all the structural reforms in Europe would not be felt for years to come and authorities should seek to support the economy in the interim.
"There's huge benefit to the reforms to banking and capital-markets union," he said. "But there's also potential benefit to a more constructive stance of pan-European, and I would emphasis pan-European, fiscal policy."
Carney also highlighted concerns about risks related to shadow banking and the asset-management industry.
We have concerns about "the scale of cross-border finance through the market-based finance system and how resilient that will be and how that will perform in a benign scenario, which is a tightening of U.S. monetary policy for good reason, or in a malign scenario where there is an economic shock or a geo-political shock," he said. "That's why as a matter of some urgency we are looking into risks around market-based finance, shadow banking, asset management."
Before it's here, it's on the Bloomberg Terminal.
LEARN MORE