U.S., Europe Shares Rise With Greek Bonds on Signs of Debt Deal
Jeremy Herron and Joseph Ciolli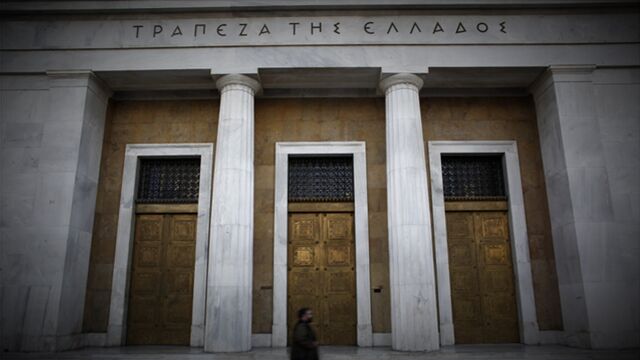 U.S. stocks rose, with benchmark indexes rebounding from two days of losses to erase 2015 declines, amid optimism Greece will reach agreement with its creditors even as Germany damped prospects of as compromise. Oil slid with copper.
The Standard & Poor's 500 Index jumped 1.1 percent to 2,068.59 by 4 p.m. in New York, within 1.1 percent of a record. The Nasdaq Composite Index neared a 15-year high as Apple Inc. climbed, pushing its market value above $700 billion for the first time. Three-year Greek bond yields sank 163 basis points to 19.46 percent, while the Bloomberg Dollar Spot Index rose 0.4 percent. U.S. oil tumbled 5.4 percent to $50.02 a barrel and copper futures dropped 1.1 percent after Chinese consumer prices rose at the slowest pace for more than five years.
While German Finance Minister Wolfgang Schaeuble said there were no plans to discuss a new accord with Greece at a meeting Wednesday, or to give the country more time, investors speculated that all sides would eventually reach a compromise over Greek debt that will help ensure the nation isn't left short of funds. Better-than-estimated results from Coca-Cola Co. also fueled U.S. equities, with all but one of the S&P 500's 10 industry groups advancing. Optimism over Apple has been growing, with new iPhones boosting fourth quarter profit to a record.
"You're seeing a continuation of the short-term momentum we experienced for most of last week," Joe Bell, a Cincinnati-based senior equity analyst at Schaeffer's Investment Research Inc., said by phone. "We've been pretty choppy throughout most of 2015 -- a lot of volatility but not a lot of net direction. You had some positive news out of Greece. Most people expect that somehow, someway there will be some sort of settlement."
Stock Gyrations
The S&P 500 advanced 3 percent last week, the most in seven weeks, as oil prices staged a rebound. The benchmark measure closed Monday just above its average price for the past 50 days and traded for the last two months within a range marked by its record closing high of 2,090.57 and Dec. 16 low of 1,972.74. Since the year began, the index has closed above 2,060 on three dates -- Jan. 8, Jan. 22 and Feb. 5 -- each time slipping below the level during the next session.
Apple climbed 1.9 percent to $122.02, swelling its market capitalization to $710.7 billion, according to data compiled by Bloomberg. Chief Executive Officer Tim Cook unveiled larger-screen, more expensive iPhones in September, while revenue from China rose 70 percent in most recent results. Apple sold 1.25 billion Swiss francs ($1.35 billion) of bonds Tuesday, its debut issue in the currency.
Coke, GM
Gains in Apple drove a 1.3 percent increase in the Nasdaq Composite, to 4,787.65. The index reached a closing high of 4,806.91 Dec. 29. Information technology shares on the S&P 500 jumped 1.6 percent, while the Dow Jones Industrial Average increased 0.8 percent, pushing it up 0.3 percent this year.
Coca-Cola rallied 2.8 percent to lead gains among large companies in the U.S. The beverage maker's earnings surpassed forecasts, helped by cost-cutting efforts and a shift toward higher-priced drinks. General Motors Co. jumped 4.2 percent with a member of President Barack Obama's team that restructured GM intending to propose an $8 billion stock buyback. Pfizer Inc. rose 3.3 percent to lead S&P 500 health shares up 1.6 percent.
CVS Health Corp., Time Warner Inc. and Kraft Foods Group Inc. are among other companies in the S&P 500 that report earnings this week. About two-thirds of companies in the index have reported results so far, with 77 percent beating profit estimates and 56 percent topping sales projections, data compiled by Bloomberg show.
'Nice Moves'
"On the domestic front, you have some nice moves on earnings like Coca-Cola," Stephen Carl, principal and head equity trader at New York-based Williams Capital Group LP, said in a phone interview. "We're just bouncing back from yesterday. If this Greece compromise comes about, that will be a clear positive."
Greece sought to drum up support for a 10 billion-euro ($11.3 billion) bridge plan as the country seeks to stave off a funding crunch and buy time to win an easing in austerity terms from creditors. Any deal, however, would require an easing of Germany's stance in the standoff.
Greek Finance Minister Yanis Varoufakis told lawmakers on Monday that the government intends to neither tear up the existing bailout agreement, nor allow the budget to be derailed.
The European Commission denied reports it will present a compromise proposal at the meeting Wednesday, saying "very intense contacts are ongoing between" Commission President Jean-Claude Juncker, Greek Prime Minister Alexis Tsipras and others, and that the plan being worked on is to keep Greece in the euro area.
Relief Rally
"The trade for the last several months has been extremely bearish against Greece," Kevin Caron, who helps oversee $170 billion at Stifel Nicolaus & Co. in Florham Park, New Jersey, said in a phone interview. "If you're short Greek assets and it's looking like there will be some sort of resolution, you'll want to cover those shorts, which can provide a relief rally."
Greece's ASE Index jumped 8 percent, the best performance among 18 western-European markets after sliding more than 25 percent in the previous three days. Ten-year Greek bond yields dropped 50 basis points, or 0.50 percentage point, to 10.24 percent on Tuesday. The yield on Greek three-year notes has risen from 10.08 percent before Jan. 25 elections swept Tsipras' anti-austerity Syriza party to power.
Chevron Corp. and Exxon Mobil Corp. slid at least 0.2 percent in the U.S., with S&P 500 energy shares down 0.2 percent on Tuesday, the only decliner among the gauge's 10 sub-indexes.
Oil Market
West Texas Intermediate crude and Brent oil both fell for the first time in four days as the International Energy Agency said the U.S. will remain the biggest contributor to global growth in oil supplies through 2020. OPEC's attempts to defend its market share will hurt other suppliers including Russia more, the IEA said. U.S. data Wednesday is projected by analysts to show stockpiles rose for a fifth week, after climbing to a more than 32-year high in the previous week.
"Inventories are the main bearish factor right now," said Axel Herlinghaus, senior commodities strategist at DZ Bank AG in Frankfurt. "I don't think the Saudis are interested in prices above $60 a barrel before the next OPEC meeting."
Yields on 10-year U.S. Treasury notes rose two basis points to 2 percent, an almost four-week high . The yield has climbed from 1.64 percent on Jan. 30, which was the lowest level since May 2013, though is still below the average for the past decade of 3.29 percent.
Ukraine Tensions
The MSCI Emerging Markets Index declined 0.6 percent for a third day of losses amid mounting concern that European-led peace talks on Wednesday will fail to resolve the Ukraine conflict.
Ukrainian troops staged a new offensive against pro-Russian rebels as leaders of Germany, France, Russia and Ukraine prepared to meet. Russia's dollar-denominated RTS Index fell 1.7 percent. Ukraine also asked Russia to restructure $3 billion in loans via Eurobonds that is due in December, Russian Finance Minister Anton Siluanov told reporters in Istanbul.
The Turkish lira weakened to a record against the dollar and local-currency bonds extended their longest losing streak since November 2013 amid concern political pressure to ease monetary policy is undermining the independence of the central bank.
The Bloomberg dollar gauge, which tracks the greenback against 10 major peers, climbed as the yen and euro lost at least 0.1 percent.
China Worries
Copper fell the most in more than a week after China's slower-than-projected inflation print fueled concern over declining demand in China, the world's biggest consumer of industrial metals. The metal for delivery in three months declined 1.4 percent to settle at $5,595 a metric ton ($2.54 a pound) in London, the biggest drop since Jan. 29.
Silver futures for March delivery dropped 1.2 percent to $16.87 an ounce in New York, the third decline in four sessions, while gold lost 0.4 percent to $1,234.10 an ounce on the spot market. The Bloomberg Commodity Index fell 1.4 percent after three days of advances, with coffee down more than 4.7 percent.
Before it's here, it's on the Bloomberg Terminal.
LEARN MORE