Ukraine Peace Talks Resume Monday Aimed at Feb. 11 Summit
Patrick Donahue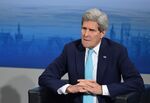 Leaders of Germany, France, Russia and Ukraine agreed to push ahead with talks on a possible settlement of the Ukrainian conflict, including a tentative peace summit within days.
German Chancellor Angela Merkel and French President Francois Hollande discussed the initiative during a "detailed" conference call with Russian President Vladimir Putin and Ukrainian President Petro Poroshenko on Sunday, Merkel's spokesman Steffen Seibert said in an e-mailed statement. Talks will resume Monday in Berlin aimed at laying the groundwork for a summit of the four leaders in Minsk, Belarus, on Feb. 11, he said.
The diplomacy may determine whether a tenuous peace takes hold or a wider war breaks out, potentially with the U.S. and some European allies supplying arms to Ukraine's government. A breakdown would also strain trans-Atlantic unity in dealing with Russia, as Europe's consensus on economic sanctions shows signs of fraying.
"We are united in our diplomacy," U.S. Secretary of State John Kerry said at the Munich Security Conference earlier Sunday. "But the longer that it takes, or the off ramps are avoided, the more we will be forced to raise the costs on Russia and its proxies."
Before it's here, it's on the Bloomberg Terminal.
LEARN MORE