U.S. Pump Prices Rise for First Time Since June, Lundberg Says
Jessica Summers and Dan Murtaugh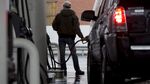 The average price of regular gasoline at U.S. pumps rose for the first time since June, climbing 12.72 cents during the past two weeks to $2.1963 a gallon, according to Lundberg Survey Inc.
The survey covers the period ended Feb. 6 and is based on information obtained at about 2,500 filling stations by the Camarillo, California-based company. Prices are $1.0981 lower than a year ago.
Pump prices had fallen in every Lundberg survey following June 20. Retail gasoline increased as crude oil prices rebounded from the lowest level since 2009.
"Crude oil rose in price and the full weight has not yet been passed through to motorists," Trilby Lundberg, the president of Lundberg Survey, said in a telephone interview. "There are a few more pennies per gallon coming to the pump."
The highest price for gasoline in the lower 48 states among the markets surveyed was in San Francisco at $2.59 a gallon, Lundberg said. The lowest price was in Tucson, Arizona, where customers paid an average $1.82 a gallon. Regular gasoline averaged $2.34 a gallon on Long Island, New York, and $2.56 in Los Angeles.
Crude Prices
West Texas Intermediate crude, the U.S. benchmark priced in Cushing, Oklahoma, gained $6.10, or 13 percent, to $51.69 a barrel on the New York Mercantile Exchange in the two weeks to Feb. 6. The price fell to $44.45 on Jan. 28, the lowest level since March 2009.
U.S. oil output declined to 9.177 million barrels a day in the week ended Jan. 30, after reaching 9.213 million Jan. 23, the highest level in weekly Energy Information Administration data dating back to 1983. U.S. production has increased 70 percent in five years as companies have used horizontal drilling and hydraulic fracturing to tap into hydrocarbon-rich layers of underground shale rock.
Tesoro Corp. shut its Golden Eagle refinery near San Francisco as scheduled maintenance work coincided with the largest United Steelworkers Union oil-worker strike since 1980. Laborers have walked out of 11 U.S. plants after contract negotiations fell apart. All other striking plants are operating normally, according to companies.
Gasoline Futures
Philadelphia Energy Solutions shut gasoline producing units at the largest refinery on the East Coast at the end of January for about two months of maintenance. Refineries processed 15.5 million barrels of oil a day in the week of Jan. 30.
Gasoline stockpiles grew by 2.3 million barrels, or 1 percent, in the week ended Jan. 30 to 240.67 million, EIA data show.
Before it's here, it's on the Bloomberg Terminal.
LEARN MORE