The Pope Is One of the Most Skilled Politicians on Earth
by and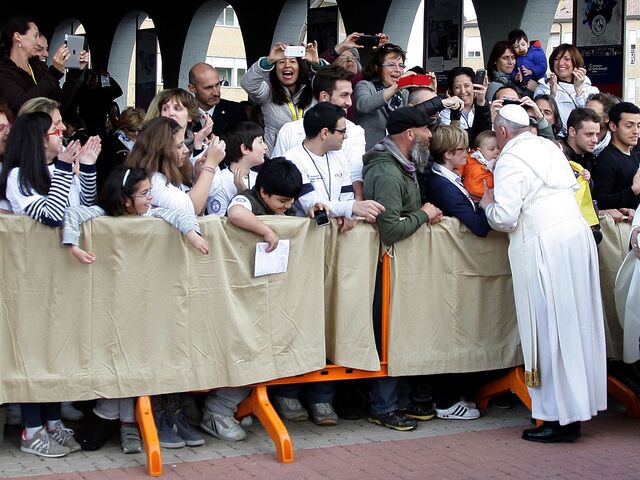 He's met with a transgender man, told Catholics not to breed like rabbits and washed the feet of a Muslim woman. While all this may sound like he's ready to overturn dogma, it turns out that Pope Francis is just as interested in geopolitics.
In less than two years in office, he's nudged the conversation away from abusive priests and used the image makeover to wade into conflicts from helping to restore Cuban-U.S. ties to lobbying for a global climate accord. In September, he will become the first religious leader who serves as a head of state to address a joint session of Congress.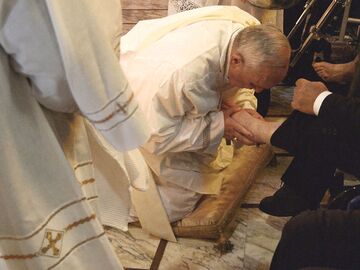 "He's capitalizing on the fascination that he exercises," said John Wauck, a professor at the Pontifical University of the Holy Cross in Rome. "He's gotten the attention of the world and is using it."
By sidestepping the debate on abortion, gay marriage and sex, Francis has positioned himself for a role in world affairs, from the economic crisis to relations with China, according to Father Thomas Reese, author of "Inside the Vatican: The Politics and Organization of the Catholic Church."
Pope John Paul II was single-minded in the pursuit of ending Communism in the 1980s, and Pope Benedict XVI was a gaffe-prone bookworm fretting over relativism. Francis, by contrast, embraces a broad policy agenda outside Vatican walls.
In an echo of the Obama administration, he is even making his own pivot to Asia. He already has been twice to the region shunned by his predecessor with a view not only to refilling pews but also gaining traction with the rising powers.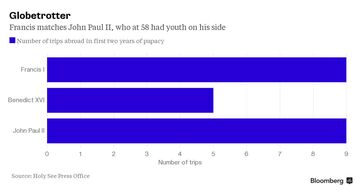 Beijing Calling
The challenge for Francis -- who hails from a religious order that proselytized in China in the 16th century -- is how to duplicate his Cuban success with a more formidable Communist foe. The Holy See and the world's most populous country have been at odds since 1951 over, among many things, the right to ordain bishops.
Francis, who says he'd go to Beijing tomorrow, has a secret corridor with the new leadership for diplomatic messages. There have been small gestures on both sides: Francis didn't see the Dalai Lama in Rome, a move that would have incensed Chinese authorities. President Xi Jinping allowed Francis to fly over China's air space, the first time a pope was granted that right.
The road nonetheless will probably be long. To coax a prickly China, the pope would need to abandon Taiwan, which China has long claimed. There is little sign China is willing to stop its practice of naming bishops independently of the Holy See. China has about 12 million Catholics -- three times the number in Ireland -- compared with a mere 300,000 faithful in Taiwan.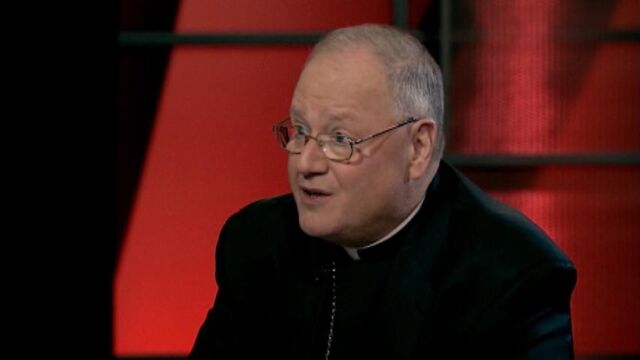 Soft Power
There are limits to the reach of papal soft power (PDF) and a trip to China doesn't appear imminent. By contrast, John Paul II made history less than a year into his papacy when he visited Communist Poland, his homeland, in an act of defiance against the Soviet Union.
When Francis was elected, few pegged him as a foreign policy expert. Unlike predecessors such as John XXIII and Pius XII who were Vatican envoys, Francis's background betrayed no such preparation -- though the interest was always there. Eduardo Valdez, an Argentine diplomat who knew the pope when he was archbishop of Buenos Aires, said the two of them never spoke of religion, only global politics.
"He was a frenetic reader of international affairs," Valdez said.
The gap between knowledge and effectiveness may be large. Francis has dived into tough international conflicts including Korea, Cuba and Palestine and not all have gone well.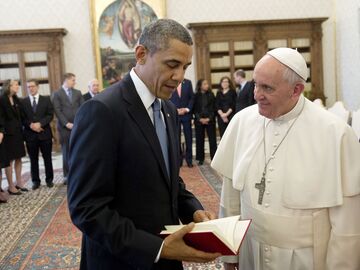 Pyongyang Silence
His call for reconciliation between the Koreas met with silence from Pyongyang; the day he arrived on the peninsula, North Korea fired missiles into the sea.
Francis did persuade Palestinian Authority President Mahmoud Abbas and then-Israeli President Shimon Peres to exchange kisses, grab two shovels and break ground for the planting of an olive tree in the Vatican gardens. While he brought attention to the plight of Palestinians by praying in Bethlehem near graffiti that read "Free Palestine," his visit was overshadowed by a resurgence in violence.
He was much more successful with Cuba, secretly hosting delegations from there and the U.S. and playing a vital role in the prisoner exchanges that led to renewed ties after half a century.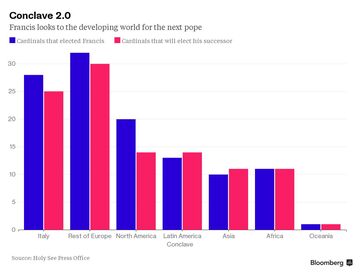 The pope's international outlook also is evident in the reconfiguration of the College of Cardinals that will pick his successor, which raises the odds the next leader of 1.2 billion Catholics will hail from Asia or Africa.
Conservative Revolt
That reshuffle -- coupled with the removal of critics such as Cardinal Raymond Burke from key positions -- has agitated a still-strong conservative wing of the church that would prefer a return to business as usual.
"A number of cardinals are upset," said Father Gerald Fogarty, a professor of religious studies and history at the University of Virginia in Charlottesville. "You can't expect the old guard to take it lying down, and they've been around a long time."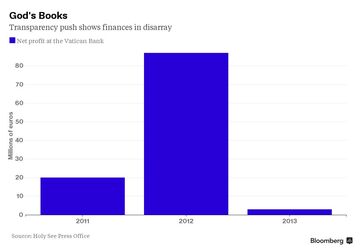 He has announced plans to shrink the bureaucracy that runs the millennia-old church, removed executives at the mismanaged Vatican Bank and told cardinals to abandon their limousines and catch the bus.
At the bank, he's brought a measure of transparency following allegations of illegal behavior and poor oversight. The bank now publishes an annual report, has closed 2,000 accounts and undertaken a review of 18,000 clients.
Carefully Planned
Drew Christiansen, a former director of the U.S. Conference of Catholic Bishops' Office of International Justice and Peace, praised the pope's openness but added that even though his statements may seem off the cuff, they are in fact carefully planned.
"There is a lot of thought put into his spontaneity," said Christiansen, who has advised the church in its diplomatic dealings with China. "The overhaul in culture really means that when the pope speaks, people pay attention."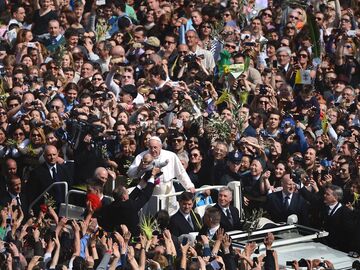 Not everyone agrees. Traditionalists say he has assaulted doctrine. Some liberals say he is all talk and little substance. His changes inside the Vatican have won him internal enemies, while his expressions of tolerance to gays have earned him, in some quarters, faint praise for coming too late to make much difference: The pope who declined to offer a judgment about homosexuals still isn't rushing to allow them to marry Church of England-style.
Even so, his charm offensive does seem to be affecting his flock. Church attendance is up, the number of voluntary donations known as Peter's Pence rose 20 percent and he added 8 million followers to his multiple-language Twitter accounts in a year. His general audiences draw three times the crowd of his predecessor.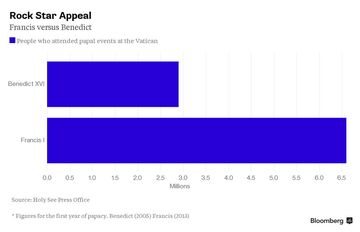 Positive Ratings
Unlike Benedict, who got negative ratings for his response to reports of sexual abuse, Francis enjoys a positive image around the world, Pew Research Center polls show.
Forty-four percent of adults polled said Benedict dealt with the church's scandals poorly. By contrast, a median 60 percent of people surveyed in 43 countries looked upon Francis favorably. Even in the Middle East, where his standing is the worst, more people thought well of him than not.
Born to well-to-do Italian immigrants fleeing fascism, the pope, born Jorge Bergoglio, is the eldest of five children brought up in a middle-class neighborhood in the center of Buenos Aires. His grandmother, Rosa, not only told him stories about the lives of saints but also shaped his views on the excesses of capitalism, teaching him that "burial shrouds don't have pockets."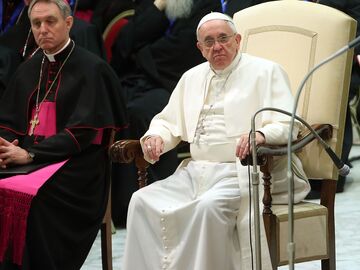 First Visit
Those views have only gotten stronger as he has ripped into "trickle-down economics," much to the dismay of some potential 2016 Republican presidential candidates. Come September, he's headed to New York for the United Nations' annual gathering, then to Congress. It will be his first time ever in the U.S.
If his address to European Union lawmakers in November is any indication, Francis won't spare the rod at the Capitol. He told Parliament that Europe was "somewhat elderly and haggard, feeling less and less a protagonist in a world which frequently regards it with aloofness, mistrust and even, at times, suspicion."
On a trip back from the Philippines last month, he quipped he'd love to enter the U.S. from its border with Mexico as a way to honor immigrants.
With Wall Street in his sights, the pope has made clear that corporate greed and income inequality are priorities. He also has said he will issue an encyclical on global warming -- another papal first -- and will use his visit to the U.S. to explain that "it is man who has slapped nature in the face." He may urge the White House to push for a climate deal in Paris in December.
His focus on getting things done quickly isn't just because of the many church crises. With one functioning lung and fast approaching 80, Francis has a personal sense of urgency.
"At my age," he told the Spanish daily newspaper, la Vanguardia. "I don't have much to lose."
—With Pablo Gonzalez
(Corrects story to show Cardinal Burke is not from Boston.)
Before it's here, it's on the Bloomberg Terminal.
LEARN MORE