Iran's Khamenei Says No Nuclear Deal Better Than Bad Deal
Ladane Nasseri, Golnar Motevalli and Patrick Donahue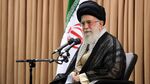 Iran's Supreme Leader Ayatollah Ali Khamenei said he agrees with Americans who say a bad agreement over his country's nuclear program is worse than no agreement as both sides ruled out the possibility of any further extensions to talks aimed at ending a 12-year impasse.
"I agree with a deal that can be carried out but not with a bad deal," Khamenei, the country's highest authority, told airforce commanders in Tehran today, the official Islamic Republic News Agency said.
"The Americans repeatedly say that no deal is better than a bad deal, and I agree with this," he said, "No agreement is better than an agreement that will damage our national interests."
Khamenei spoke after Iranian Foreign Minister Mohammad Javad Zarif met with U.S. Secretary of State John Kerry earlier Sunday at a security conference in Munich.
Zarif and Kerry want a final nuclear deal that would eliminate concerns that Iran plans to develop nuclear weapons and lift international sanctions against the Persian Gulf country. Iran says its atomic program is for peaceful, civilian purposes only.
Iran and a group of six countries including the U.S. extended talks to June 30 after failing to meet a self-imposed deadline last November. They are aiming to agree on the outlines of an accord by the end of March.
Anybody's Interest
"I do not think another extension is in the interest of anybody," Zarif said at the conference, shortly after Khamenei made his comments in Tehran.
Zarif warned that the opportunity to reach an agreement "may not be repeated."
Kerry said later that the U.S. would not agree to extend the March deadline for a framework, adding that it would be "impossible" to allow for an extension for countries to make a "fundamental decision." He made the comments in an interview on NBC's "Meet the Press" program.
Both the U.S. and Iran have faced opposition from political opponents at home. In Washington, Congress is gearing up to host Israeli Prime Minister Benjamin Netanyahu on March 3, at the invitation of Republican speaker of the house John Boehner. Netanhayu plans to use the platform to highlight the dangers of a "bad deal" with Iran.
Heavy Criticism
The invitation has been heavily criticized by Democrats. President Barack Obama, Kerry and Vice-President Joe Biden plan to snub Netanyahu during his visit.
Israel "will continue to lead the international effort against Iran arming itself with nuclear weapons," Netanyahu said at a weekly cabinet meeting in Jerusalem.
In Tehran, Khamenei's comments will come as a further sign that the Supreme Leader broadly endorses moderate President Hassan Rouhani's policy of engagement with the U.S. in order to bring and end to sanctions, which have slashed oil-rich Iran's national income and impeded economic growth.
Iran's negotiators are "endeavoring to remove the tool of sanctions from the hands of the enemy," Khamenei said. "If they are unable to, everyone knows this country has plenty of ways to blunt this tool."
Zarif has faced fierce criticism from hard-line politicians and clerics in Tehran who are suspicious of any detente with the U.S. and he has been summoned to appear before Iran's parliament to answer questions from lawmakers when he returns to Iran. Much of the recent criticism has been aimed at Zarif's walks with Kerry during negotiations in Geneva and Paris.
"There is a huge deal of mistrust in Iran vis-a-vis the west in general and the United States in particular. Anything I do is rightly scrutinized by our people, our parliamentarians," Zarif said in Munich.
Before it's here, it's on the Bloomberg Terminal.
LEARN MORE