China Buys Brazil's Soccer Dominance as Players Get Big Pay
Tariq Panja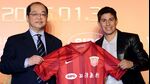 The top goal scorers in China's Super League might sound familiar -- to a Brazilian soccer fan.
Half of last season's top 10 are from Brazil with just one Chinese player, Shanghai SIPG midfielder Wu Lei, on the list. When the league kicks off March 7, Elkeson, Anselmo Ramon, Davi Rodigues de Jesus, Vagner Love and Bruno Meneghel will have even more company.
Chinese clubs have been involved in three of the five biggest trades during the current Brazilian transfer window, a period that allows the Latin American teams to buy and sell players from Jan. 23 through April 16. Cruzeiro attacker Ricardo Goulart's 16 million-euro ($18.3 million) move to Guangzhou Evergrande is the most expensive soccer player sale from Brazil to China.
"China is the new El Dorado for football," said Marcos Motta, referring to the legendary land of gold. He spoke a day after returning from Asia, where he acted on the deal that took Argentine Dario Conca from Rio de Janeiro-based Fluminense to Shanghai SIPG, a team owned by the Shanghai International Port Group.
"From the conversations I had there with club presidents, owners, president of companies and governors of the cities, they will not stop," Motta said.
China's clubs spent $101 million importing players in 2014, triple the $28 million spent a year earlier, according to soccer's global governing body FIFA. A third of the 74 foreign players in China's 16 top division clubs are Brazilian.
Transfer Fees
Transfer fees are rising too. China bought 20 players from Brazil in 2012 for $9 million in fees, FIFA said. Last year, the fees for the same number of players climbed to $40 million.
The salaries in China are often "much, much higher" than the athletes could get in Europe, with several of the world's best-paid players competing in the Super League, Motta said. While in Brazil, some players have had to go to court to get paid.
Goulart, 23, was linked in local media reports to European teams including Monaco before moving to Guangzhou, an industrial city northwest of Hong Kong. He denied the move to China would hurt his national team chances.
"The world is so connected today you know as much about what's happening in China as you do about England," Goulart told reporters before traveling to Asia.
The forward wouldn't have received such favorable terms had he moved to Europe, according to Eduardo Carlezzo, a Sao Paulo-based sports lawyer who specializes in international transfers.
Top Salaries
"What the Chinese have now that differentiates them from any other country is the salary," Carlezzo said. "Maybe you can have something near to that in Qatar or other emirates but it's been the big difference in the head of the players when they see the amount offered to them."
Goulart will join Elkeson at Evergrande, which in 2013 became the second Chinese team to win Asia's top club competition. Elkeson, who's amassed more than 2 million followers on China's biggest social network Sina Weibo, features on the team's website to promote products and tickets.
Alibaba Stake
The team, which is 50 percent owned by China's biggest e-commerce company Alibaba Group Holding Ltd., led the league with an average attendance of 42,154 last year. The club declined to comment on its hiring policy, and Shanghai SIPG didn't return calls and e-mails for comment.
Brazilian soccer players' skills coupled with their level of training makes them attractive to Chinese teams, said Yan Qiang, a soccer commentator who was deputy editor-in-chief of Titan Sports, the highest-circulation sports newspaper in China.
"It will cost a lot, which will be a high economic burden that clubs' normal operations cannot afford," he said in a telephone interview. "So these clubs have to invest more outside capital. Moreover, introducing foreign players will bring limitations to the development of local players."
Brazil national team striker Diego Tardelli, 29, who failed to impress while playing in Europe with Real Betis, PSV Eindhoven and Anzhi Makhachkala, will earn as much as 1 million reais ($370,000) a month at Shandong Luneng Taishan, local news agency Estado said. The average salary of players in Brazil's top league Serie A is about $18,000 a week, according to the Daily Mail.
Financial Difficulties
"In the last two years, Brazilian football has gone through many financial difficulties and I couldn't let this opportunity slip away," Tardelli told Estado. "I wanted to ensure my nest egg because a footballer's career is short and I may not have another opportunity like this."
Shandong Luneng declined to comment.
China's current soccer boom is the latest effort to make the world's most populous country a force in the sport. The national team failed to qualify for a World Cup since its first appearance in 2002. Corruption scandals led to the arrest of 33 top referees, national team players and senior soccer officials in 2013.
While China finished at the bottom of its group in its only World Cup appearance, Brazil is a record five-time champion. And though the squad lost 7-1 at home in last year's World Cup semifinal to eventual champion Germany, the appetite for Brazilian players in emerging nations like China remains undiminished.
Teams there are offering big salaries to players who didn't feature in the World Cup squad, like Tardelli, who's on the roster now, and Goulart, who's made one appearance. Elkeson has never worn Brazil's yellow shirt competitively.
China's interest comes as other markets for the hundreds of players Brazil exports annually dry up, especially after a year of fighting along the border of Ukraine and Russia.
Disappearing Market
"In 2013 Brazilian clubs sold about $340 million worth of players overseas and Ukrainian clubs amounted to about a third of this," Carlezzo said by phone. Half of the spending in Ukraine is attributed to Shakhtar Donetsk, a club owned by mining billionaire Rinat Akhmetov. The club can no longer play at home because of fighting and its stadium has been damaged by shelling. Russian teams reduced spending from $214 million in 2013 to $102 million last year.
Rules forcing European clubs to balance their finances is also restricting new signings.
Some Brazilian players have returned home and complained about the air quality or food but the riches on offer mean they always go back, he said.
"It's a new frontier to be crossed," Carlezzo said. "We've seen players for decades going to Japan or South Korea. China brings additional challenges for the players."
Before it's here, it's on the Bloomberg Terminal.
LEARN MORE