New Hampshire Poll: Jeb Bush Grabs Narrow Lead
Hillary Clinton owns a dominating lead among Democrats.
By and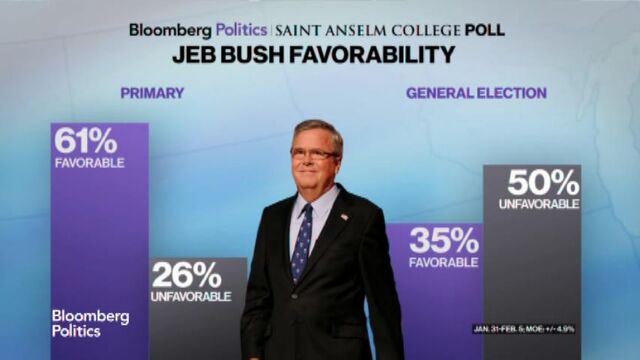 Jeb Bush has taken a slight lead over other potential Republican presidential candidates in a new Bloomberg Politics/Saint Anselm New Hampshire poll, even though his party's voters have doubts about his famous last name and his positions on immigration and education.
Even if Bush should overcome those doubts to prevail in what is shaping up as one of the most wide-open Republican primaries in the state's recent history, the poll suggests that he is deeply unpopular with likely general-election voters. It's a worrisome sign for his campaign in a battleground state that both parties have targeted during the past several presidential elections.
The poll also shows former Secretary of State Hillary Clinton dominating her potential Democratic rivals. Clinton, who won the state's presidential primary in 2008, is the first choice of 56 percent of Democratic primary voters. Senator Elizabeth Warren of Massachusetts, who has said she isn't running, is second at 15 percent, while Vice President Joe Biden and Senator Bernie Sanders of Vermont both have 8 percent.
The poll, taken Jan. 31-Feb. 5 by Washington-based Purple Insights, surveyed 400 Republican primary voters and 400 Democratic primary voters almost exactly a year out from the 2016 New Hampshire primary. It has a margin of error of plus or minus 4.9 percentage points. 
Mitt Romney's decision to forgo a third presidential bid clearly upended the Republican contest, with candidates now scrambling to pick up his supporters. Romney, who won the Granite State's 2012 primary on his way to winning the nomination, led a Bloomberg Politics/Saint Anselm poll in November by 19 percentage points; Bush now leads with just 16 percent. Senator Rand Paul of Kentucky is second with 13 percent, Wisconsin Governor Scott Walker is at 12 percent, and New Jersey Governor Chris Christie, coming off a controversy-filled overseas trip, is at 10 percent.

New Hampshire, which traditionally holds the second presidential nominating contest after Iowa, presents a complicated electorate for Bush. The state's Republican voters rejected his brother, George W. Bush, in 2000 in favor of John McCain. His father, George H.W. Bush, lost the state's primary in 1980 but won it in 1988 on his way to the White House.
In a snapshot of potential problems facing the former Florida governor, nearly three out of five Republican primary voters said his strength as a potential candidate was based on his family connections to politics, while just 31 percent said it was due to his unique qualities and achievements. When Democrats were asked the same question about Clinton, only 21 percent cited her family connections as her main strength. 
Nancy Clark, a real estate broker based in Gilford, N.H., said she's supporting Bush—at least for now. "I'm just wondering about how people are going to feel about having three Bushes in the White House," Clark said in an interview after the poll was taken. "I'm definitely open. I just want a Republican in the White House, so it's who is going to be able to pull that off."
Bush acknowledged during a speech in Detroit last week that he must present himself to voters in a way that distinguishes him from his father or brother. But the poll shows trouble spots beyond family history. As in Iowa, Republican primary voters are suspicious of Bush's support for immigration reform and the national educational standards known as Common Core.
One in five Republican primary voters said Bush's support of Common Core was a "deal-killer" that would prevent them from supporting him. His support for letting undocumented immigrants remain in the country was a deal-killer for 41 percent.
And the issue may make it hard for Bush to expand his support. Almost half of the Republicans who didn't pick Bush as their first or second choice said his immigration positions were a deal-killer for them.
Still, 14 percent of Republican primary voters named him as their second choice, while no other Republican candidate broke single digits.
Rounding out the rest of potential Republican candidates: Former Arkansas Governor Mike Huckabee and retired neurosurgeon Ben Carson each scored 6 percent; Senator Marco Rubio of Florida was at 5 percent; Louisiana Governor Bobby Jindal, Senator Ted Cruz, and businessman Donald Trump were all at 3 percent; former Senator Rick Santorum of Pennsylvania and Ohio Governor John Kasich had 2 percent; and former Texas Governor Rick Perry and businesswoman Carly Fiorina were both at 1 percent.
Not a single Republican voter named Indiana Governor Mike Pence as first or second choice, the same result as last month's Bloomberg Politics/Des Moines Register Iowa Poll.
While GOP voters may be ready to support Bush, general-election voters appear more dubious. His unfavorability rating from a sample of 503 general-election voters was 50 percent, compared to 35 percent favorable. Clinton, by contrast, had a 54 percent favorable rating and a 42 percent unfavorable score.
Of the 21 possible Democratic and Republican presidential candidates named, only Trump's unfavorable rating was higher than Bush's, at 66 percent. 
More conservative Republicans such as Huckabee and Cruz had lower unfavorable ratings among general-election voters (45 and 33 percent, respectively) than Bush. But nearly all the Republicans were generally viewed unfavorably. Among the party's 15 potential presidential candidates tested, 11 had unfavorable ratings that exceed their favorability, unlike any of the six possible contenders in the Democratic poll. Christie's favorable rating was 40 percent positive, 46 percent negative.
Paul, known for his libertarian leanings, and Kasich had evenly split favorable/unfavorable ratings of 40 percent and 12 percent, respectively. Walker and Carson were the only two Republicans in the poll viewed more favorably than unfavorably by general-election voters. The general-election sample has a margin of error of plus or minus 4.4 percentage points.
The poll suggests that Walker has the most room to grow in New Hampshire. Despite strong showings in recent polls, the Wisconsin governor remains relatively unknown—just 54 percent of GOP primary voters expressed an opinion about him. That opinion was overwhelmingly positive, with those with a favorable view of him outnumbering those with a negative view by better than 4 to 1.  
Paul also has reason for optimism. He was second in the Republican poll, the same position he held in November. Paul's favorability rating among Republican primary voters is down three points at 63 percent, but it is the highest among the 15 potential GOP candidates named in the poll. 
"Rand Paul, in some ways, is the turtle here while the others are popping up and down," said Purple Insights' Doug Usher. 
Bush's favorability was 61 percent and Christie's was 59 percent, up 9 percentage points since November. Still, 29 percent of Republicans said they have an unfavorable view of Christie, tied with Huckabee for second-worst. Trump was the most disliked Republican included in the survey, with 53 percent of Republican primary voters expressing a negative opinion of him. 
Like Walker, Rubio is relatively unknown in the state but well-liked among those who had an opinion: 52 percent think favorably of him, while just 14 percent have an unfavorable view. 
While there were danger signs for Bush, there were also positives.

Republicans said the former governor would be far better than Walker, Paul, or Christie when it comes to combating terrorism—a top issue for the party's voters—and would be a stronger candidate against Clinton in the general election. By a narrower margin, they also said he would be the best of the four at creating jobs. Paul had a slight advantage when voters were asked who understands people like them, and who had a more positive vision for the future.
"Jeb Bush is out of the gate and in the lead, and those are very good things," Usher said. "To the extent that he's banking on some notion of inevitability, I think it's a disconcerting poll."
Walker's fast rise—he vaulted to the top of the Bloomberg Politics/Des Moines Register Iowa Poll on the strength of his speech at the Iowa Freedom Summit in January—is likely to attract more attention, both from curious voters and from rivals eager to start attacking a frontrunner. He wasn't included in the November poll, but he probably wouldn't have registered much support at that point, Usher said.
"He may be the horse that pops up on the carousel right now," Usher said. "If you take a look at 2012 on the Republican side, there were a whole bunch of horses that popped up and down on the carousel. So his sustainability is impossible to predict at this point."
In New Hampshire, 69 percent of Republican voters said Walker's fight against public-employee unions were either a very or somewhat convincing reason to back him for president. Similar majorities said the same about his three statewide victories in a Democratic-leaning state, and the fact that he is a fresh face who can bring new ideas to Washington.
There are potential pitfalls for Walker, too. Nearly a third of Republican voters said they wouldn't vote for Walker because of the numerous campaign-finance scandals facing him, including one that has been called a "criminal scheme" by prosecutors. Walker has denied wrongdoing and has not been charged with a crime.
About one-fifth said they wouldn't support him because he wouldn't know how to get things done in Washington, while 28 percent cited his lack of foreign policy experience as a reason not to vote for him.
"There's been too many Bushes and Clintons and it's time for change," said Richard Kaufman, a retired professor in Dover, N.H. who participated in the poll. "I'm not necessarily settled on Walker, but I think he's one of the new people.
"At this point," Kaufman said, "I think it's just wait and see who throws their hat into the ring."