Belka Moves Toward Currency Wars Amid Polish Rates Debate
Piotr Bujnicki and Maciej Onoszko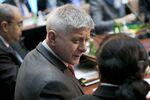 The surging zloty is doing what deflation alone couldn't, tipping Poland's central bank toward cutting borrowing costs as policy makers weigh joining the global skirmish over exchange rates.
The currency has surged the most among emerging European markets since the European Central Bank announced its 1.14 trillion-euro ($1.3 trillion) stimulus plan on Jan. 22. Traders are betting on 42 basis points of cuts in the next three months, up from 34 basis points before the meeting, forward-rate agreements show.
Further zloty gains, which risk harming the competitiveness of Polish exports, could be a problem, Governor Marek Belka said last week after rates were kept on hold for the fourth consecutive month even as deflation has been digging in since July. More than a dozen central banks have injected extra stimulus this year to weaken their currencies and shore up their economies amid dwindling inflation.
"The emphasis now is on the dangers of persistent deflation and an overly strong currency," Phoenix Kalen, an emerging-market strategist at Societe Generale SA in London, said by e-mail Friday. "The balance of priorities at the central bank appears to have shifted."
Kalen said Societe Generale predicts the central bank will cut the benchmark by 25 basis points to 1.75 percent at the next meeting, with a 50 point cut also possible.
Deepening Deflation
Consumer prices probably fell for the seventh month in January to minus 1.2 percent from a year earlier, the worst deflation since Poland started publishing comparable data in the 1980s, according to a survey of economists by Bloomberg before a report on Friday. The central bank has tolerance range of 1.5 percent to 3.5 percent inflation.
Poland kept its seven-day reference rate at 2 percent on Feb. 4, in line with estimates, amid concern any action would further destabilize the currency. The meeting was the first since Switzerland's surprise decision to abandon its franc cap on Jan. 15 roiled markets worldwide and sent the zloty tumbling 20 percent.
While Switzerland's decision prompted policy makers to wait "several more weeks," there appear to be "sufficient arguments to sway the council in favor of cutting rates," Belka said last week.
Recovering Losses
Belka signaled policy makers would "keep an eye on the currency" and will probably act if there was "too much appreciation," Henrik Gullberg, a London-based foreign-exchange strategist at Deutsche Bank AG, said by e-mail on Friday. Strengthening has been "marginal" and the zloty is undervalued, he said.
While the zloty has recovered about half of its losses against the Swiss franc in the past three weeks, Poland's currency has strengthened 2.6 percent versus the euro since the ECB detailed its stimulus plan.
The zloty depreciated 0.8 percent to 4.1890 against the euro at 5:02 p.m. in Warsaw. The currency gained 0.3 percent on Friday after Standard & Poor's raised its sovereign rating outlook to positive from stable.
The Polish central bank is "certainly the most concerned" in the region about further currency appreciation, according to HSBC Holdings Plc strategists including Murat Toprak and David Bloom. They predicted Poland will cut rates by 50 basis points "in coming months" to counter the zloty's gains.
In a best-case scenario, "a continual zloty appreciation would lead to a larger undershooting of the inflation target," the analysts wrote in a report on Thursday. "In the worst, it would maintain inflation in negative territory for longer, increasing the risk of a negative deflationary spiral."
Before it's here, it's on the Bloomberg Terminal.
LEARN MORE