Win, Lose or Draw: Experts Clash Over Putin's Gains in Ukraine
James G. Neuger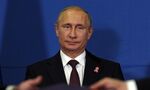 With Ukraine's future hanging in the balance, Russian President Vladimir Putin may be the winner already. Or the loser. It depends on whom you ask.
For European Parliament President Martin Schulz, Russia's annexation of Crimea and proxy war to control large sections of eastern Ukraine show that "Russian foreign policy is much faster. They are creating facts and the European Union is reacting very slowly."
Speaking on the same stage at the Munich Security Conference Saturday, billionaire investor George Soros said that by seizing parts of Ukraine, Putin squandered Russia's historic influence over the entire country.
"He lost Ukraine," Soros said. "Ukraine was a cooperating, compliant country, and he mishandled that situation."
For his part, Putin was at the scene of one of his symbolic triumphs, Sochi on the Black Sea. It was the first anniversary of the start of the Winter Olympics there. He vowed to overturn a global system that he said is dominated by the U.S.
"That type of world order has never been acceptable for Russia," Putin said. "Maybe someone likes it and wants to live under a pseudo-occupation, but we won't put up with it."
Back in Munich, the Russia-Ukraine crisis dominated an annual foreign-policy fest, making it the temporary headquarters of the latest round of diplomacy that began with German Chancellor Angela Merkel's and French President Francois Hollande's trip to Kiev and Moscow.
Merkel noted the "uncertain" prospects for the initiative, which continues Sunday afternoon in a conference call between her, Hollande, Putin and Ukrainian President Petro Poroshenko. On the table will be the possible mechanics of a military disengagement and greater autonomy for eastern Ukraine.
'Limited Results'
Addressing Merkel after her speech to the assembled diplomats and pundits, Francois Heisbourg, head of the London-based International Institute for Strategic Studies, spoke of the "apparently limited results of your determined diplomatic efforts." Merkel said not trying would be worse.
As the clock ticked toward Sunday's diplomatic deadline, Russian-backed rebels massed for a new offensive to extend the territorial gains they have made since the previous cease-fire in September. By some estimates, they have since taken over an additional 500 square kilometers (193 square miles) of Ukrainian territory.
Mindful of the brittle nature of that truce and an April "de-escalation" accord, NATO Secretary General Jens Stoltenberg said the real test will come if and when the diplomacy bears fruit.
'Positive' Talks
"It's a positive thing that there are talks and contacts," Stoltenberg said. "One thing is to reach an agreement, another is to be sure it is implemented on the ground."
Rebel advances since September give them control over much of the country's predominantly Russian-speaking east, while leaving some majority-Russian-speaking parts of the south outside the fold. Ukraine is battling to prevent the separatists from seizing the land corridor between Crimea and the Russian border.
Before it's here, it's on the Bloomberg Terminal.
LEARN MORE