Brian Williams Takes Leave as NBC Anchor Amid Controversy
Lucas Shaw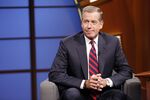 Brian Williams will take a break from anchoring the "NBC Nightly News" amid growing questions about the credibility of his reporting.
Lester Holt will replace Williams for the time being, Williams wrote in a note to his staff on Saturday that said the issue has detracted from the U.S.'s most-watched nightly news broadcast.
"In the midst of a career spent covering and consuming news, it has become painfully apparent to me that I am presently too much a part of the news, due to my actions," he wrote.
Williams didn't mention the controversy when he anchored the show Friday evening, hours after NBC confirmed it was investigating its most prominent newsman's on-air claims that a military helicopter he was traveling in was shot and forced down in the Iraqi desert in 2003. Williams has since retracted his account and apologized after servicemen disputed his story.
The break is temporary, Williams said, writing that he needs a few days to "adequately deal with this issue." In a story covered on "Nightly News" last week, Williams took Sergeant Major Tim Terpak, who retired with three Bronze Stars, to a hockey game at New York's Madison Square Garden, where the veteran received a standing ovation.
Williams Says
During the piece, Williams said his helicopter was hit by a rocket-propelled grenade. In fact, the aircraft that Williams was in was following helicopters that came under fire, NBC and Williams reported in correcting the original story.
Don Helus, a pilot in one of the aircraft that did get hit, told CNN's "Reliable Sources" on Sunday that he had contacted NBC affiliate MSNBC shortly after the attack, concerned about the way it was reported.
"Just to alert them that the facts were incorrect, because, you know, stating that Mr. Williams was not part of our flight," Helus told CNN's Brian Stelter. "He was in a different flight."
He said he tries to keep "an unbiased opinion" about Williams.
Helus never got a response from NBC, Stelter said.
Katrina Coverage
New questions also have been raised about Williams's telling of his experience during Hurricane Katrina in New Orleans. He has said he saw dead bodies float by in the city's French Quarter, which had minimal flood damage.
That story, one of the biggest of Williams's career, transpired the first summer after Williams took over the anchor chair in December 2004 at the Comcast Corp.-owned network. Williams has held the job ever since and is the longest-tenured of the three biggest U.S. networks' news anchors.
"Upon my return, I will continue my career-long effort to be worthy of the trust of those who place their trust in us," Williams wrote in the note.
If Williams doesn't return to the anchor chair after NBC's investigation, the network runs the risk of losing viewers and advertising dollars for "Nightly News." Keeping Williams, on the other hand, could bruise the network's credibility and also hurt ratings.
The program's audience -- 9.3 million viewers a night, compared with 8.7 million for ABC's "World News Tonight" and 7.3 million for the "CBS Evening News," according to Nielsen data -- means NBC is able to charge more for advertising. A 30-second spot on NBC goes for about $48,000, while ABC charges $37,000 and CBS gets $33,800, according to Nielsen.
Firing a lead anchor is no small matter, said Al Tompkins, senior faculty for broadcasting at the Poynter Institute, a journalism center.
"Anchors become iconic," Tompkins said in an interview on Friday. "They're expected to influence the culture of that network. The investment in any anchor is huge, that's why they get paid millions of dollars."
Before it's here, it's on the Bloomberg Terminal.
LEARN MORE