Three Days of Snowfall May Bring Boston Another Foot or More
Brian K. Sullivan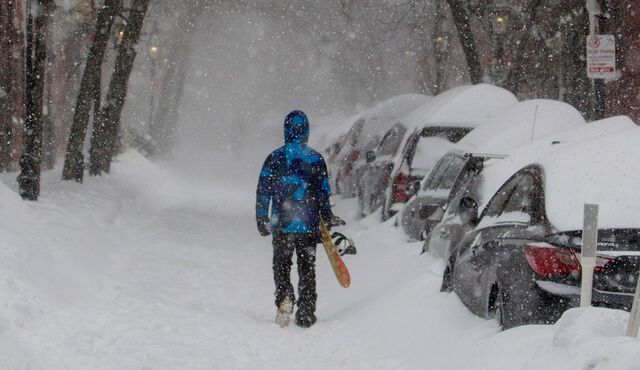 Snow will fall for the next three days across Boston, interior New England and parts of upstate New York, leaving as much as a foot of new accumulation or more across parts of the region, forecasters said.
Light snow will begin falling Saturday in eastern New England and persist through Monday, with as much as 12 to 16 inches (30 to 41 centimeters) falling in Boston by the time it ends, said Bill Simpson, a National Weather Service meteorologist in Taunton, Massachusetts.
"You have cold air in place and then you have these weak clipper systems," said Patrick Burke, a meteorologist with the U.S. Weather Prediction Center in College Park, Maryland. "They are fairly minor in terms of their strength but each one will produce noticeable snow."
A winter storm watch, meaning snow and ice may affect travel, stretches from upstate New York, northern New Jersey and Pennsylvania across a large part of New England, including Boston, Hartford and Providence. As much as 18 inches may fall farther to the west, including Albany.
The forecast calls for New York City to be spared any significant accumulation.
"It will pretty much snow right on through this afternoon right on through Monday night," said Rob Richards, a meteorologist with commercial forecaster AccuWeather Inc. in State College, Pennsylvania.
AccuWeather is also calling for Boston to get about 12 inches, with more to the north and west.
New York
New York will get mainly rain from the system, with the possibility of 1 to 3 inches of snow as the storm pulls away on Monday night, Richards said.
Since the last week of January, Boston and New England have been hit by storms that have crippled transportation, closed schools and left streets framed by high snowbanks. Boston had its snowiest seven-day period on record starting Jan. 27, when 40.05 inches fell at Logan International Airport.
"We are in a very active pattern and we should remain in an active winter pattern for the near future," Simpson said. "It is not just the snow, it is what do you do with it."
Through Friday, Boston had got 54.2 inches of snow this season, or 28.7 inches above normal. Simpson said Boston has a long way to go before it approaches the record 107.6 inches that fell in 1995-1996.
Forecasters don't anticipate a major winter storm will develop off the coast, Burke said.
"Things are not really phasing together just right to produce a power nor'easter," he said.
At the storm's peak on Monday, winds may pick up along the Massachusetts' coast, though they will not reach the levels of January's blizzard.
Before it's here, it's on the Bloomberg Terminal.
LEARN MORE