NBC's Brian Williams Problem
Danielle Burger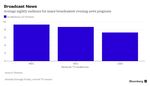 Brian Williams's admission that he didn't take fire aboard a helicopter in Iraq in 2003 puts NBC Universal in a difficult position about how to handle the fallout.
Firing Williams, who's sat behind the anchor desk of the top-rated "NBC Nightly News" since 2004, raises the risk that the show will lose viewers and advertising dollars for the broadcaster, owned by Comcast Corp. Keeping him on could bruise the network's credibility, which might also hurt ratings.
The program's audience -- 9.3 million viewers a night compared with 8.7 million for ABC's "World News Tonight" and 7.3 million for the "CBS Evening News," according to Nielsen data -- means NBC is able to charge more for advertising. A 30-second spot on NBC goes for about $48,000, while ABC charges $37,000 and CBS $33,800, according to Nielsen. Firing a lead anchor is no small matter, said Al Tompkins, senior faculty for broadcasting at the Poynter Institute.
"Anchors become iconic," Tompkins said in an interview on Friday. "They're expected to influence the culture of that network. The investment in any anchor is huge, that's why they get paid millions of dollars."
Williams' salary is $13 million a year, according to the website Celebrity Net Worth.
Williams apologized on the air on Wednesday for incorrectly saying last week that a helicopter he traveled on, while reporting on the Iraq War in 2003, had been forced down after being hit by a rocket-propelled grenade. Williams made the same assertion in a 2013 interview on the "Late Show With David Letterman."
Fact Gathering
NBC is "gathering the facts to help us make sense of all that has transpired," said Deborah Turness, president of NBC News, said in a memo to staff on Friday. "When we have something to communicate we will of course share it with you."
Williams anchored "NBC Nightly News" on Friday evening as usual and didn't mention the controversy.
NBC's first priority should be transparency, and provide answers as soon as possible, Tompkins said.
"The hole's going to get deeper if NBC doesn't respond pretty clearly and pretty forcefully with some facts," he said. "We have a bunch of people telling wildly different stories," he said. "It's a knowable fact what happened."
The imbroglio was among the top 10 trending topics Friday on microblogging site Twitter. Under hashtags #BrianWilliamsMemories and #BrianWilliamsMisremembers, users pretending to be the anchor tweeted about fake acts of heroism.
NBC will probably take time to thoroughly ascertain the facts, said Barbara Cochran, a professor at the University of Missouri's journalism school and a former executive producer of NBC's "Meet the Press" program.
Changing anchors can lead viewers to switch loyalties and sample other media outlets, said Cochran, who also served as a vice president at CBS News.
"For an anchor to establish trust takes a long, long time," said Cochran. "With the investment the network has made, they're not going to back away in a big hurry."
Before it's here, it's on the Bloomberg Terminal.
LEARN MORE