TurboTax Suspends State Tax Filing Due to Fraudulent Returns
Antonia Massa and Jack Clark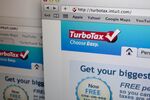 Intuit Inc. temporarily suspended the filing of state tax returns after discovering that its TurboTax software and services may have been used to file fraudulent returns.
Federal tax-filing wasn't affected, Intuit said in a statement Friday. Americans are in the middle of their annual tax-filing season ahead of an April 15 deadline. Typically, taxpayers are due refunds on national and state taxes already paid, creating an opportunity for fraudsters to file bogus claims or steal identities to claim the cash.
TurboTax is part of Intuit's Consumer Group, which made $88 million in sales, or 13 percent of total revenue, in the company's fiscal first quarter that ended in October. Intuit and some states saw an increase in suspicious filings and attempts to use stolen information to file fraudulent state tax returns, the Mountain View, California-based company said. There weren't any security breaches of Intuit's systems.
"We understand the pain and frustration identity thieves cause taxpayers," Brad Smith, Intuit's chief executive officer, said in the statement. "We know how important tax time is and our number-one priority is making sure peoples' returns are filed timely, accurately and safely."
Agencies in states including Utah and Minnesota reported a rise in tax filings using stolen personal details. Intuit is working with Palantir Technologies Inc. and Mandiant Corp. to investigate the issue and is seeking to restore e-filing of tax returns as soon as today, said Julie Miller, a spokeswoman for the company.
Intuit shares were down 2.6 percent at $89.30 at 1:08 p.m. in New York. The stock rose 21 percent in 2014.
Before it's here, it's on the Bloomberg Terminal.
LEARN MORE