Treasuries Tumble After Jobs Report Surprise
Daniel Kruger and Liz Capo McCormick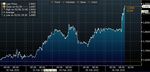 Treasuries tumbled, pushing two-year yields up the most in more than five years, after a larger-than-forecast gain in U.S. jobs renewed speculation the Federal Reserve may begin raising interest rates in the first half of this year.
Futures contracts show a 27 percent chance the central bank will lift rates at its policy meeting in June, according to data compiled by Bloomberg. The likelihood Thursday was 18 percent. Investors had pushed back expectations for the first Fed increase since 2006 for much of the month as a collapse in oil prices and sluggish growth in Europe pushed down the outlook for inflation.
"Across the board, it was a pretty positive report," said Larry Milstein, New York-based managing director of government-debt trading at R.W. Pressprich & Co. "Prior to this, the Fed's timing was pushed to 2016. A report like this pulls it back in. It will certainly bolster the arguments of the hawks on the Fed."
Yields on two-year notes, which are more sensitive than longer-term securities to Fed monetary policy, increased 12 basis points, or 0.12 percentage point, to 0.65 percent at 5 p.m. New York time, according to Bloomberg Bond Trader data. It was the biggest jump on a closing basis since June 2009. The price of the 0.5 percent debt due in January 2017 fell 1/4, or $2.50 per $1,000 face amount, to 99 23/32.
Two-year yields increased 19 basis points since Jan. 30, the most in a week since February 2011.
Yield Gap
Investors should bet on the gap between yields on five- and 30-year Treasuries narrowing as shorter-term securities underperform, Credit Suisse Group AG strategists led by Ira Jersey wrote in a note to clients. The firm is one of the 22 primary dealers that trade with the Fed.
The spread between the two securities narrowed to 1.02 percentage points on Jan. 6, the least since 2008, as yield-seeking investors flocked to longer-term securities. It's now 1.05 percentage points.
Implied yields on Eurodollar futures that expire in December increased 14 basis points Friday, to 0.86 percent. The contracts, which are priced at expiration on the three-month dollar London interbank offered rate, are used to speculate on the future path of the Fed's benchmark rate.
"The market likes this report," said John Brady, managing director for global futures and options at RJ O'Brien & Associates LLC in Chicago. "It puts the Fed back in play in June" for a rate increase.
Payrolls increased by 257,000 jobs last month following a 329,000 gain in December that was bigger than previously reported, figures from the Labor Department showed. The median forecast in a Bloomberg survey of economists called for a 228,000 increase.
'Expectation Date'
Jobs gains averaged 336,000 over the past three months, the strongest since a comparable period ended in November 1997.
Average hourly earnings jumped 0.5 percent, the most since November 2008, from the prior month. They were up 2.2 percent over the past year, the biggest increase since August.
"This is a strong report no matter how you look at it," said Richard Schlanger, who helps invest $30 billion in fixed-income securities as vice president at Pioneer Investments in Boston. "The markets are going to shift and instead of late this year, they're going to move the expectation date back to June."
The U.S. central bank boosted its assessment of the economy on Jan. 28 after a two-day meeting. Policy makers played down low inflation while saying the U.S. was growing at a "solid" pace, versus the "moderate" performance they saw in December.
Hedge-fund managers and other large speculators reversed bets on two-year note futures for the first time in four weeks before the jobs report to take positions that profit from a decline in the securities. Net-short positions totaled 2,608 contracts as of Feb. 3, versus net-long positions of 40,420 the previous week, Commodity Futures Trading Commission data showed.
Before it's here, it's on the Bloomberg Terminal.
LEARN MORE