TransAsia Engine Warning Sounded Seconds After Takeoff
Clement Tan and Tim Culpan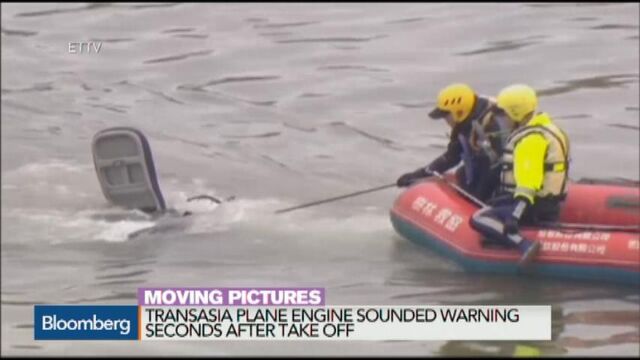 The TransAsia Airways Corp. plane that crashed in Taiwan sounded a warning from one engine before fuel was manually cut to the other, investigators said today.
Analysis of the ATR 72's flight-data recorder showed that the right-hand, or No. 2, engine, was automatically idled when the alarm went off, even though functioning normally. The No. 1 engine, on the left, was also running as usual before fuel was cut seconds later, Thomas Wang, managing director of Taiwan's Aviation Safety Council, said at a briefing in Taipei.
Wang declined to draw conclusions about the warning or the actions of the crew, saying the investigation is still in its preliminary stages.
Today's disclosures provide the first indications of what happened to Flight 235 in the four minutes between takeoff and its descent into the Keelung river on Feb. 4. At least 35 of the 58 people aboard the domestic flight between Taipei and the island of Kinmen near mainland China are confirmed dead in TransAsia's second fatal accident in a year.
The pilots had discussed an engine flameout 35 seconds before sounding a "May-day" distress call, Wang said. Both engines of the turboprop model were intact when investigators recovered them, he said.
Search Widened
Rescuers widened their search to more than 30 kilometers (19 miles) of riverways from the crash site in downtown Taipei, with the coastguard patrolling 10 nautical miles out to sea.
Both pilot Liao Jian-zong and co-pilot Liu Zi-zhong died in the accident, Taiwan's Civil Aeronautics Administration said. The aircraft involved was less than a year old.
The crash follows a fatal loss in July for the Taipei-based carrier when another ATR 72 came down in the outlying Penghu islands, killing 48 people. Ten people survived.
Pilot Liao had 4,914 hours of flying experience and his co-pilot 6,922 hours, TransAsia said Feb. 4. There was an observer on board, Hong Bing-zhong, who had 16,121 hours of experience.
The flight had departed Taipei's Songshan Airport for an hour-long flight to Kinmen. Footage from a dashboard-mounted camera in a car showed the ATR's wings tilted at a steep angle as it swerved over an elevated highway, with one tip clipping a taxi and the railing before the plane plunged into the Keelung.
Two people in the taxi suffered injuries, the city government said.
Before it's here, it's on the Bloomberg Terminal.
LEARN MORE