Photographer: Luke Sharrett/Bloomberg
This Is the Achilles' Heel of the Obama Economy
Productivity is lagging as the job market booms
by
There was justifiable jubilation in the White House and on Wall Street after Friday's release of the monthly jobs report.
Employers in the U.S. added more jobs in January than forecast, capping the biggest three-month gain in 17 years, and workers' earnings jumped. Unemployment ticked up, but only because more than a million Americans joined the labor force looking for work. "This is a terrific report," former White House chief economist Alan Krueger said on Bloomberg Television.
Hold on. At the risk of sounding like a bunch of Debbie Downers, there's a dark side to the resurgence of the job market—and it has to do with what most economists reckon is critical to the long-term health of the economy: productivity. The growth of productivity is crucial because it determines how fast the economy can expand without generating inflation and how much companies can pay their workers over the long run.
And it's been dismal in recent years. Since the recession ended in June 2009, productivity has risen at just a 1.3 percent annual pace, a lot slower than its 2.2 percent average rate in the past 20 years. In the fourth quarter of 2014, workers were no more efficient in their jobs than they were a year earlier, according to the government's statistics.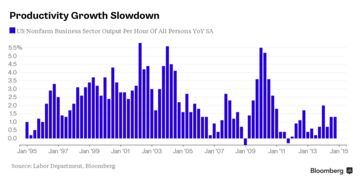 Friday's job numbers will make the recent productivity data look even worse. That's because the bean counters at the Bureau of Labor Statistics went back and found 107,000 more people working in the fourth quarter than they had previously thought. If it takes more employees to produce the same amount of output, that means they're not working as efficiently.
What's more, it now looks like the government overestimated how much output the U.S. churned out in the final three months of last year. That will skew the productivity numbers even lower. St. Louis-based consulting firm Macroeconomic Advisers figures the economy grew at a 2.1 percent annual pace in the fourth quarter, not the 2.6 percent rate the government estimated in its first pass at the numbers last month.
Economists have put forward a variety of explanations for the subpar performance of productivity in recent years. Companies aren't investing as much in efficiency-enhancing factories and equipment. Entrepreneurs aren't starting as many new businesses. Older workers are more settled in their ways and less willing to take a chance with their jobs. Or maybe it's partly a measurement error that will be explained away later when the government discovers that the increasingly Internet-driven economy grew a lot faster than thought.
Whatever the reason, though, the doleful performance of productivity during President Obama's tenure means that companies will continue to be cautious in handing out higher salaries, even as the job market tightens.
Before it's here, it's on the Bloomberg Terminal.
LEARN MORE