Petrobras Opts for State Banker as CEO; Shares Plunge
Sabrina Valle and Filipe Pacheco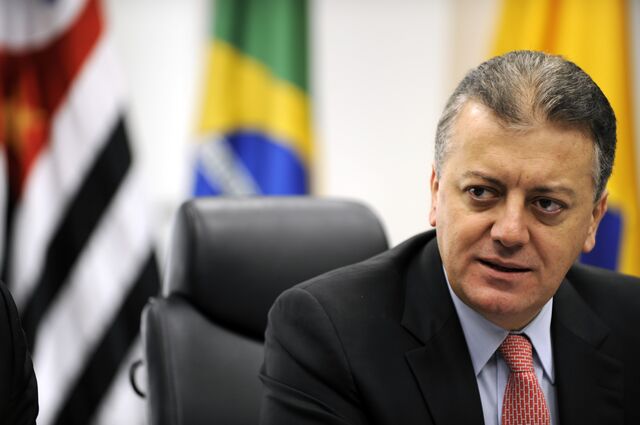 President Dilma Rousseff is putting her faith in a state bank executive to guide Brazil's national oil company out of an unprecedented graft scandal. Shares plunged.
Rousseff chose Banco do Brasil SA Chief Executive Officer Aldemir Bendine as Petrobras' new CEO, a government spokesman said in televised remarks Friday as the board met in Sao Paulo. The government controls both Petrobras and Banco do Brasil with a majority of voting shares.
Bendine, 51, is set to take over from Maria das Gracas Foster, who announced her resignation Feb. 4 after failing to broker consensus on the cost of the escalating investigation. Petrobras fell the most among major Brazilian shares on concern the new CEO lacks the independence to lead a turnaround.
"It seems like options were scarce and he was the only one willing to take the job," Paulo Nepomuceno, chief economist at Coinvalores in Sao Paulo, said by telephone. "This is clearly a name that's just too close to the government."
Earlier this week, the company's shares surged on speculation a market-friendly candidate such as former central bank chief Henrique Meirelles or the head of Goldman Sachs Group Inc. in Brazil, Paulo Leme, would be appointed.
Bendine's chief financial officer at Banco do Brasil, Ivan Monteiro, will replace Almir Barbassa as Petrobras's CFO, the Rio de Janeiro-based company said in a regulatory filing after the board meeting.
First Tasks
Solange da Silva Guedes was promoted to head of exploration and production on an interim basis while Jorge Celestino Ramos, Hugo Repsold Jr. and Roberto Mora take over the refining, gas and engineering divisions, respectively, replacing the other four executives who quit along with Foster.
Petrobras shares fell 6.9 percent to 9.1 reais in Sao Paulo. Brazil's benchmark index lost 1.4 percent. Rousseff's press office didn't respond to an e-mailed requests for comment on the next CEO.
One of the first tasks awaiting the new management team will be gaining approval of the board and independent auditors for writedowns from the contractor kickback scheme. A lack of consensus has delayed the release of earnings and shut out Petrobras from international debt markets at a time of slumping oil prices, threatening the company's spending plans.
Foster, who rose through the ranks to become the first female CEO of Latin America's largest publicly traded oil company in 2012, quit after Petrobras lost about $100 billion in value since September as the scandal engulfed the company.
Cost Cuts
At Petrobras, Bendine will take on the task of continuing to increase production at a time the company is slashing investments until it regains access to debt markets. It is halting projects and considering multi-billion-dollar writedowns after the arrest of its former head of refining uncovered Brazil's biggest-ever corruption scheme, dubbed Carwash.
Bendine was named CEO of Banco do Brasil in 2009, under Luiz Inacio Lula da Silva's presidency, charged with increasing clients, boosting credit and competing with other private lenders.
"He's competent, prepared," Communications Minister Ricardo Berzoini said Friday when asked if Bendine was appointed on an interim basis. "No one appoints a weak CEO. Sometimes the market makes incorrect evaluations."
Government Needs
The appointment will bring "no major managerial improvement" for the company, Bradesco BBI analysts including Auro Rozenbaum wrote in an e-mailed note. If confirmed, the producer would probably "remain largely bound to the government's needs," which could delay the release of its audited third-quarter earnings, they said..
At least 4.1 billion reais ($1.5 billion) in graft losses - - as part of a total potential writedown of 89 billion reais -- have been identified by Petrobras in a scheme in which company executives allegedly took bribes from a cartel of construction companies and shared the proceeds with politicians.
Sergio Machado resigned as head of Petrobras' transport unit on Thursday, saying he wanted to clear the way for auditor PricewaterhouseCoopers to sign off on earnings, according to a person briefed by Machado.
Impeachment Talk
The scandal has prompted renewed calls for the impeachment of Rousseff, who was chairman of the company for more than seven years before becoming president. Investigators in the Petrobras case on Thursday detained for questioning the treasurer of Rousseff's party as part of a broader sweep in which 200 police officers carried out warrants to arrest four people and take in 18 others for questioning.
Pedro Barusco, a former Petrobras services manager who entered a plea bargain with prosecutors, told investigators the PT, as the Workers' Party is known, received as much as $200 million from the scheme in the decade through 2013, according to a transcript of his testimony published by the court.
The PT wants the new CEO to maintain policies designed to boost employment, such as buying goods and services from local suppliers, and keep Petrobras in operational control of Brazil's most prolific oil regions, said Rui Falcao, the party's president. Investigations into graft at Petrobras should be carried out according to the law, he said.
"We're living through hell in Brazil these days and the only news that could be potentially good to encourage investors turns out like this," Paulo Henrique Amantea, an analyst at brokerage H.H. Picchioni, said by telephone from Belo Horizonte, referring to the CEO appointment. "This sounds like a tantrum from Rousseff since investors wanted someone from the markets."
(Corrects spelling of ex-president's name under 'Cost Cuts' subheading in story published Feb. 6.)
Before it's here, it's on the Bloomberg Terminal.
LEARN MORE