Jobs Report Crushes It
Victoria Stilwell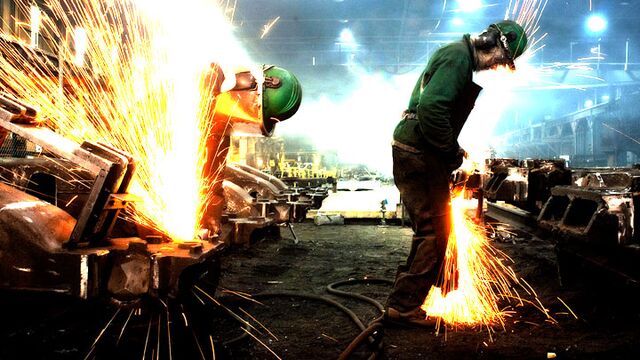 Few things illustrate growing business confidence better than offering someone a job. After adding 1 million workers to payrolls since November, American employers have it in spades.
A 257,000 January increase in employment capped the biggest three-month advance in 17 years and delivered the strongest wage gain since 2008, figures from the Labor Department showed Friday in Washington. The unemployment rate rose to 5.7 percent from 5.6 percent as the prospect of finding work lured hundreds of thousands into the labor force.
"These are pretty amazing numbers," said Nariman Behravesh, chief economist at IHS Inc. in Lexington, Massachusetts, and the top forecaster of payrolls over the last two years, according to data compiled by Bloomberg. "The January number is strong, but then you've got sizzling November and December numbers too. And then you've got the wage gains."
More hiring, pay increases and the longest workweek of the expansion are boosting earnings just as inflation ebbs, which will combine to lift household buying power. Gains in purchases can trigger a virtuous circle of hiring and spending that will probably assure Federal Reserve policy makers that the expansion can withstand an increase in interest rates later this year.
"That probably does argue for sticking to the schedule and moving toward a rate hike around mid-year," said Michael Feroli, chief U.S. economist at JPMorgan Chase & Co. in New York, and a former Fed researcher. "It's supportive of a continued march toward normalization" of interest rates.
Treasuries Slump
Treasuries tumbled, pushing the yield on the two-year note up the most in almost five years, on renewed speculation the central bank may begin raising interest rates in the first half of this year. The yield, which is more sensitive than longer-term securities to monetary policy, climbed to 0.65 percent at 4:38 p.m. New York time from 0.52 percent late on Feb. 5, according to Bloomberg Bond Trader data. It was the biggest intraday jump since May 2010.
The Standard & Poor's 500 Index dropped 0.3 percent to 2,055.47.
Average hourly earnings jumped 0.5 percent, the most since November 2008, from the prior month. They were up 2.2 percent over the past year, the biggest advance since August.
Even as job growth has firmed over the past year, a pickup in wage growth has been slower to take hold. Fed policy makers are closely monitoring worker pay as they consider a timetable for their first increase in borrowing costs since 2006.
Payroll Revisions
A striking aspect of the report was a revision that added 147,000 jobs to the payroll tally for the previous two months, which also incorporated adjustments back to 2010.
Employment in November was revised up to a 423,000 gain, the most since May 2010. Private payrolls, which exclude government agencies, soared 414,000 that month, the biggest advance since September 1997.
Job gains in January were led by retailers, construction firms and health-care companies.
The median forecast of 98 economists surveyed by Bloomberg projected January payrolls would rise by 228,000. Estimates ranged from increases of 180,000 to 286,000.
The agency's survey of households, used to derive the unemployment rate, showed about 1.05 million people entered the labor force and 759,000 found work, causing the jobless rate to rise by 0.1 percentage point. These numbers also reflect new estimates from the Census Bureau on the size of the population.
'Good' Reason
"The unemployment rate can go up for good or bad reasons, and in this case, it's good reasons," said Tara Sinclair, an associate professor of economics at George Washington University in Washington and chief economist at Indeed, a search engine for online job postings. "Employment is growing across a wide range of industries, and that's consistent with what we're seeing in our postings."
The participation rate, which indicates the share of working-age people in the labor force, increased to 62.9 percent from 62.7 percent in December.
Sophie Dejonckheere, a 30-year-old graduate student at Columbia University, started a full-time job last week with a Paris-based research group that helps financial institutions line up their investment decisions with climate goals. Over the next six months she'll be opening the group's New York office, with an option for the position to turn into a permanent one.
"I wanted to be able to leverage my skills that I'd already built up in the first six years of my career and build on that with this new expertise that I developed," said Dejonckheere, who previously worked in international development consulting.
More Pasta
Italian pasta-maker Barilla Holding SpA is expanding its operations -- and hiring -- in the U.S. as the economy strengthens and Europe lags behind.
"The economy in general in North America is doing better than what Europe is doing," said Fabio Pettenati, the Chicago-based vice president of supply chain at Barilla America. "There is definitely more potential."
The company is adding 23 jobs at its plant in Ames, Iowa, to boost production of its gluten-free pasta, which is currently imported.
Economists surveyed by Bloomberg from Jan. 9 to Jan. 14 projected the economy will add 230,000 jobs per month this year, with an average unemployment rate of 5.4 percent.
Staffing firm Robert Half International Inc. has been among companies seeing the improvement in the labor market firsthand. Sales and earnings at the Menlo Park, California-based company that works on temporary and permanent placements beat analysts' estimates amid growing demand for its services.
"The U.S. labor market has strengthened in recent months, and skill shortages persist in professional disciplines such as accounting and information technology," Chief Executive Officer Harold Messmer said on a Jan. 29 earnings call.