Obama Says U.S. Security Threats Will Take Years to Resolve
David Lerman and Mike Dorning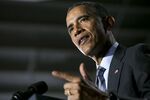 President Barack Obama said the U.S. is confronting national security threats from violent extremism to Russian aggression that will take years to resolve.
The president's approach is described in his National Security Strategy, a 33-page document released on Friday that offers a counterpoint to Republicans who say Obama has been too slow and timid in confronting global challenges.
Obama said the U.S. is shifting its focus beyond ground wars in Iraq and Afghanistan to combat extremism, terrorism, cyber attacks, Russian aggression, infectious-disease outbreaks, climate change and more.
"Many of the security problems we face do not lend themselves to quick and easy fixes," Obama said in a two-page memo accompanying the report. "The challenges we face require strategic patience and persistence."
The strategy document, Obama's first since 2010, is intended to serve as a guide for the federal government on policy priorities and how to achieve them.
Republicans and some Democrats in Congress have criticized Obama's approach as weak in combating Islamic State, countering Russian President Vladimir Putin's aggression in Ukraine and seeking a halt to Iran's suspected nuclear weapons program. Republican Senator Lindsey Graham of South Carolina, a frequent critic of Obama, said the strategy plan was more of the same.
'Strategic Patience'
"I doubt ISIL, the Iranian mullahs, or Vladmir Putin will be intimidated by President Obama's strategy of 'Strategic Patience,'" Graham said via his Twitter account.
Susan Rice, Obama's national security adviser, said administration critics lack a sense of perspective.
"While the dangers we face may be more numerous and varied, they are not of the existential nature we confronted during World War II or during the Cold War," she said in remarks Friday afternoon at the Brookings Institution in Washington. "We cannot afford to be buffeted by alarmism in a nearly instantaneous news cycle."
She said Obama has two years left in his term "and two years is plenty of time" to act on addressing Islamic State, Russian aggression and climate change.
Much of the congressionally mandated report is familiar rhetoric, some of which was recycled from Obama's Jan. 20 State of the Union address, concerning U.S. economic strength, political leadership and democratic values.
New Emphasis
The report is a departure from the president's 2010 strategy, which cited reviving the U.S. economy as crucial to national security.
This year's plan outlines the challenges that have emerged since then, including the rise of the Islamic State extremist group in Iraq and Syria, escalating friction between China and U.S. allies in Asia, and Russia's annexation of Crimea and continued support for separatist rebels in Ukraine.
"We have to make hard choices among many competing priorities, and we must always resist the overreach that comes when we make decisions based upon fear," Obama wrote.
The report singles out the potential use of nuclear weapons as the gravest security danger, saying there must be "a comprehensive and verifiable deal" with Iran to curb its nuclear program. The report doesn't rule out military force if a deal isn't reached.
The strategy criticizes "Russian aggression" against Ukraine and vows to "continue to impose significant costs on Russia through sanctions and other means."
Pressing China
While welcoming "the rise of a stable, peaceful and prosperous China," the strategy says the U.S. will "manage competition from a position of strength while insisting that China uphold international rules and norms on issues ranging from maritime security to trade and human rights."
The strategy calls for modernizing U.S. alliances with Japan, South Korea, Australia and the Philippines and strengthening regional security and trade institutions.
"This is an ambitious agenda, and not everything will be completed during my presidency," Obama said in his memo. "But I believe this is an achievable agenda, especially if we proceed with confidence and if we restore the bipartisan center that has been a pillar of strength for American foreign policy in decades past."
Before it's here, it's on the Bloomberg Terminal.
LEARN MORE