MTA Chief Prendergast Put to Test Again After Metro-North Crash
Michelle Kaske and Henry Goldman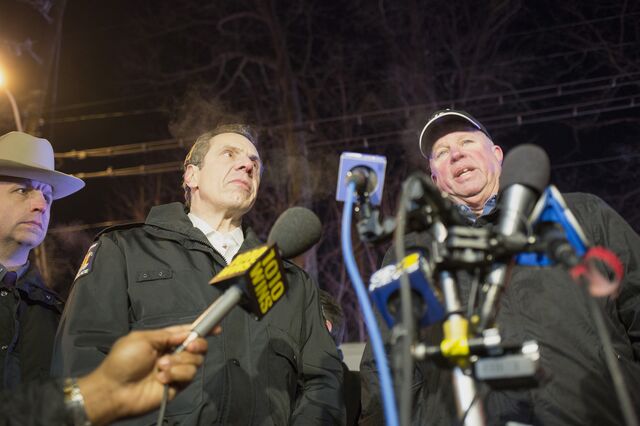 Less than an hour after a Metro-North train derailed in the Bronx in 2013, killing four people, Tom Prendergast was surveying the damage. The chairman of the biggest U.S. transit agency had been heading home that morning from a weeklong cruise when he heard about the accident.
"He was right at the scene, I imagine his suitcases were still in the car, when he called me," said Fernando Ferrer, the Metropolitan Transportation Authority vice chairman and a former Bronx borough president. "He called me and said, 'Freddy, you'll never guess where I am.'"
Just 14 months later, Prendergast was back at another fatal scene Feb. 3 after a Metro-North train smashed into a sport-utility vehicle on the tracks in Westchester County, killing six people in a fireball. It became the latest challenge for the 61-year-old railroad veteran, whose agency federal regulators slammed last year for lax safety standards and that now faces a $15.2 billion deficit in its five-year capital plan.
Prendergast's decades of experience informed his response to the Bronx crash as he instituted safety measures, including screening employees for sleep disorders and improving track inspections and speed compliance. Former colleagues, union officials and transit advocates say his composure under pressure is helping him navigate the aftermath of the latest accident, the worst in Metro-North's history.
Leadership Sign
"Tom gets calmer in a crisis, and that's a sure sign of leadership," said Joe Lhota, who headed the MTA during Hurricane Sandy, which halted subways, flooded tunnels and caused $5 billion of damage to the system.
Prendergast, who was in charge of New York City's buses and subways for the MTA at the time, was instrumental in restoring service, Lhota said.
"I saw him during Sandy take what is very complex and technical, and break it down into plain English for public officials who needed to understand it all, and at the same time keeping his staff, labor and management motivated to get the job done," Lhota said.
After the 2013 Bronx derailment, Prendergast oversaw the hiring of David L. Mayer, a former managing director at the National Transportation Safety Board, to serve as the MTA's first chief safety officer. Prendergast formed a safety committee and also replaced Howard Permut, the former Metro-North president, with Joseph Giulietti, assigning him to enhance the commuter line's safety practices.
No Denial
An Oct. 28 NTSB report said the engineer of the derailed Bronx train fell asleep before hitting a curve at 82 miles an hour (132 kilometers per hour) despite a 30 mph limit. The employee had a sleep disorder compounded by a change in his work schedule, according to the report. On Nov. 19, in a separate report, the NTSB said Metro-North lacked a "safety culture."
Prendergast "was very quick to implement a safety review," Ferrer said. "He brought in sleep apnea people. Other leaders might have been in denial about it. He stepped back and learned from it."
The chairman also directed Metro-North to change its signal system so engineers are alerted as they approach any major speed restriction, said Tony Bottalico, general chairman of the Association of Commuter Rail Employees, which represents engineers.
Engineer's Knowledge
The upgrade happened within weeks of the accident, thanks to Prendergast's knowledge of an engineer's job and the line's intricacies, Bottalico said.
"You don't have to spend hours talking to him explaining things," Bottalico said. "The process moves along smoother and he can get to a decision-making point much sooner."
The MTA, whose subways, buses and commuter railroads serve 8.6 million people every weekday, relies on state funding to support its operations and its five-year capital plan. That means its chief must work with lawmakers and the governor to obtain cash to keep the system safe and reliable, said Charles Brecher, consulting co-director of research at the business-backed Citizens Budget Commission, which focuses on the city and state's finances and services.
"A lot of it is subsidy and appropriation," Brecher said. "You have a constituency in the legislature. So it's not an enviable position in terms of all of the people you have to keep happy."
Safety First
Prendergast has said at monthly board meetings that safety is a priority for the MTA. The proposed $32 billion, five-year capital program, which finances maintenance, upgrades and expansion of infrastructure, directs $13 billion, almost 40 percent, to safety projects, according to the plan.
At a Jan. 29 legislative hearing in Albany on Governor Andrew Cuomo's 2016 budget proposal -- five days before the Westchester crash -- Prendergast stressed the MTA's obligation to keep passengers safe.
"Once we put somebody on a train, we're responsible for them," Prendergast said. "And we're accountable for making sure that they're safe and secure."
Prendergast, who has a systems-engineering degree from the University of Illinois, has always worked in transportation. A Chicago native, he started his career in 1975 at the Chicago Transit Authority. After a stint at the U.S. Transportation Department, in 1982 he began working for the New York City Transit, the MTA division that runs subways and buses, as assistant director of system safety. He served in several positions for the agency before becoming president of the Long Island Rail Road for about six years.
Vancouver Stint
In 2000, he left to work as a transportation consultant in the private sector for about eight years. He then became chief executive at TransLink, Vancouver, British Columbia's public transit system.
Prendergast returned to the MTA in December 2009 as president of New York City Transit. He became the MTA's interim executive director in January 2013 and chairman and CEO six months later.
A tall, hefty figure with a sometimes ruddy face, Prendergast comes across more like a gentle giant than a bully. He's paid $325,000 per year and arrives at work thanks to Metro-North's Harlem Line, according to Aaron Donovan, spokesman for the MTA. Prendergast didn't have time for an interview for this article, given this week's accident, Donovan said in an e-mail.
Prendergast has gone head to head with labor over salary and benefits. Union leaders who've hammered out contracts with him say he's a tough negotiator, yet keeps his word. He reached agreements last year with transit workers and Long Island Rail Road employees.
"Aside from settling the contract, we haven't agreed on much," said John Samuelsen, president of the Transport Workers Union Local 100, which represents subway and bus employees. "But when he's shook hands and made a deal, he's kept the deal. I'll say that about him, and I'm not sure I'd say that about a lot of people."
Before it's here, it's on the Bloomberg Terminal.
LEARN MORE