Lions Gate Weighs More Sequels, Prequels to 'Hunger Games' Films
Anousha Sakoui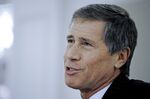 Lions Gate Entertainment Corp., the studio that produced the multibillion dollar "Hunger Games" films, said it's working on more movies tied to the series.
"We are actively looking at some development and thinking about prequel and sequel possibilities," Robert Friedman, co-chairman of Lions Gate's motion picture group, said on a conference call with investors Friday.
The Santa Monica, California-based studio is looking for ways to expand and add to its most-profitable films, such as "The Hunger Games" trilogy that comes to an end this year. Those plans include a "Hunger Games" interactive exhibit that opens July 1 in New York, a 3-D Imax version of the next film, and possibly theme park rides. The company also announced sequels to the Keanu Reeves film feature "John Wick."
"We continue to be bullish on Lions Gate shares as the company continues to monetize 'The Hunger Games' franchise, while systematically assembling a slate that can help replace the franchise in 2017 and beyond," James Marsh, an analyst at Piper Jaffray Cos., wrote in a research note.
Lions Gate said the third film in "The Hunger Games" series, "Mockingjay -- Part 1," will open in China this weekend on 4,000 screens in 3-D and 2-D.
"Part 2," the finale, also will be released in Imax 3-D on Nov. 20, the first time an installment will be available in 3-D and a potential boost for ticket sales.
"John Wick" will be made into a multifilm franchise, the company said. The original featured Reeves as a retired hitman who seeks revenge on a gang that killed his dog. It's the third biggest online seller for Lions Gate, behind "Divergent" and "The Hunger Games: Catching Fire," Jon Feltheimer, chief executive officer, said on the call.
Virtual Reality
To market its latest young adult franchise "Divergent," the studio plans a virtual reality experience to accompany the release of the sequel "Insurgent" in March.
The studio confirmed it expected to lose money on "Mortdecai," featuring Johnny Depp. Feltheimer described the loss as "very manageable."
Lions Gate on Thursday posted third-quarter sales that missed analysts' estimates as motion-picture sales declined. Profit of 73 cents a share, excluding items, beat analysts' predictions of 68 cents, benefiting in part from lower expenses.
Lions Gate fell 0.9 percent to $29.05 at 3:06 p.m. in New York. The shares had declined 8.5 percent this year as of Thursday.
Before it's here, it's on the Bloomberg Terminal.
LEARN MORE