Junk-Era Backsliding in Brazil Bonds Shows Mounting Woes
Paula Sambo and Filipe Pacheco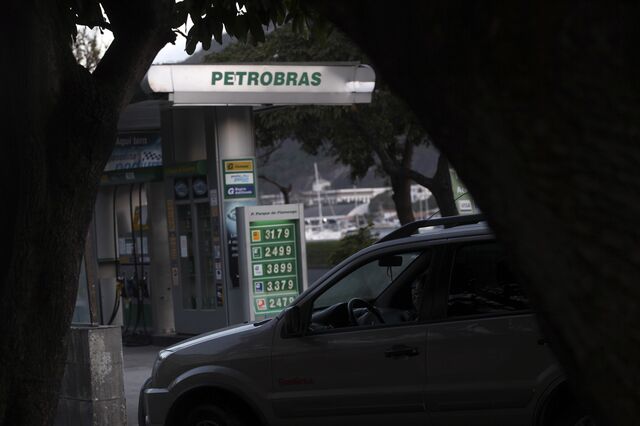 Brazil hasn't been held in such low esteem among bond investors in more than seven years.
The nation's overseas borrowing costs have surged to within 0.3 percentage point of junk-rated countries. That's the closest that Brazil has been since July 2007, when it was still three months away from earning its first investment grade.
The backsliding in the bond market is evidence of how anemic economic growth, soaring inflation and an unprecedented corruption probe have taken their toll on Latin America's biggest country. Moody's Investors Service put Brazil's credit grade on negative outlook in September, six months after Standard & Poor's cut its rating to the cusp of junk.
"It has been a steady erosion in creditworthiness," Nicholas Spiro, a managing director at Spiro Sovereign Strategy, said by e-mail from London.
Brazil's government declined to comment on perceptions of the country in the bond market.
S&P rates Brazil BBB-, while Moody's ranks the country one level higher on its own scale at Baa2. Investors demand 3.14 percentage points in extra yield to own Brazil's dollar-denominated bonds instead of Treasuries. That compares with 3.41 percentage points for countries in the BB tier.
Petrobras Cut
On Jan. 29, Moody's cut state-controlled oil producer Petroleo Brasileiro SA to the brink of junk at Baa3, citing concern the graft probe will make it difficult for the company to get financing. It gave the oil producer a month to provide more clarity on its earnings or risk another downgrade.
Petrobras, which delayed reporting unaudited third-quarter results for two months, has yet to determine how much it overpaid suppliers that allegedly offered bribes in return for contracts. Its $2.5 billion in bonds maturing in 2024 declined 0.9 cent to 92.07 cents on the dollar Friday as of 10:54 a.m. in New York.
"If Brazilian bonds have been contaminated for a while by the risks derived from Petrobras, it's now probably going to be more pronounced," Bruno Rovai, an emerging-markets analyst at Barclays Plc in New York, said in an e-mail. "The biggest risk is whether Brazil has to provide Petrobras with financing if it's unable to raise money in capital markets."
Siobhan Morden, the head of Latin American fixed-income strategy at Jefferies Group, said Brazil's effort to cut spending and reduce debt means the country may still avoid a rating cut. Finance Minister Joaquim Levy, who took office Jan. 5, unveiled public-spending cuts and tax increases that would reduce the budget gap by almost 40 billion reais ($14.6 billion).
'Fighting Chance'
"There is a fighting chance that Brazil can hold on to its investment-grade rating," she said by e-mail.
Analysts surveyed by the central bank lowered their 2015 economic growth outlook for a fifth straight week on Feb. 2, to 0.03 percent, which would be the weakest since 2009. They predict inflation will accelerate to 7.01 percent, exceeding the upper end of the country's target.
"Brazil is trading as it deserves," Enzo Puntillo, an emerging-market money manager at Swiss & Global Asset Management AG in Zurich, said by e-mail.
Before it's here, it's on the Bloomberg Terminal.
LEARN MORE