Paulson Hedge Funds Mostly Rise in January After '14 Losses
Simone Foxman and Kelly Bit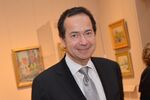 Billionaire John Paulson saw gains in almost all his hedge funds in January with the highest returns in his merger strategy, which comprises about half the firm's $18 billion of assets, according to three people with knowledge of the performance.
Paulson & Co.'s Paulson Partners fund rose 1.1 percent last month, with a leveraged version rising 2.6 percent, said one of the people, who asked not to be identified because the results are private. The New York-based firm's credit strategy rose 0.8 percent and the Advantage Plus fund was up 1.6 percent, said two separate people.
The Paulson Special Situations Fund, which had about $1.1 billion at the start of the year, declined 9.3 percent in January, in part because of investments in Greece.
Paulson suffered his second-worst year in 2014 after his funds sustained losses on energy companies, the dissolution of a proposed merger between AbbVie Inc. and Shire Plc, and holdings of Fannie Mae and Freddie Mac. The Advantage Plus fund plunged 36 percent last year and the Special Situations pool was down 18 percent.
Armel Leslie, a spokesman for the New York-based firm with Peppercomm, declined to comment on the performance.
(An earlier version of this story corrected the name of the Advantage Plus fund in second paragraph.)
Before it's here, it's on the Bloomberg Terminal.
LEARN MORE