Jobs Report Boosts Odds of Fed Interest-Rate Rise in June
Christopher Condon and Craig Torres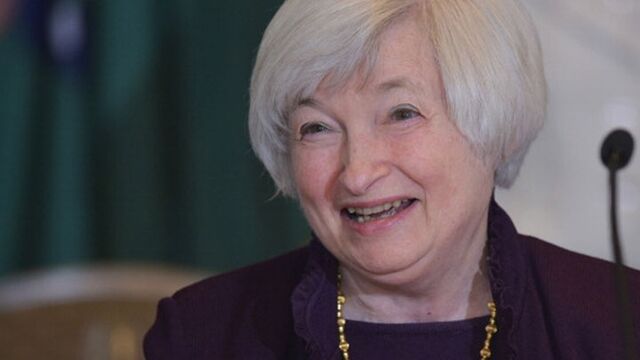 The odds of a Federal Reserve interest-rate increase as early as June rose after a government report showed payroll gains in January capped the biggest three month increase in 17 years.
The probability of a Fed liftoff by June, based on trading in futures and options, rose to 26.9 on Friday, from 17.6 percent the day before, data compiled by Bloomberg show. The odds of an increase by September were 59.1 percent, up from 44.5 percent.
The jump came after the Labor Department reported non-farm payrolls increased by 257,000 jobs in January, and average hourly earnings climbed by the most since November 2008.
"If average hourly earnings pick up again in February, in that case a June hike really is on the table," said Guy Berger, an economist at RBS Securities Inc. in Stamford, Connecticut.
Concerns over stubbornly low inflation and weak global growth had undermined expectations for a mid-year liftoff. Fed Chair Janet Yellen has said the policy-making Federal Open Market Committee would have to be "reasonably confident" that inflation will move back toward the bank's 2 percent target before a rate increase.
The Fed's preferred measure of inflation rose 0.7 percent in December from a year earlier, driven down by a plunge in oil prices. It has not been above the central bank's goal since March 2012.
Philadelphia Fed President Charles Plosser, who dissented at the December FOMC meeting because he considered that the statement did not sufficiently acknowledge the progress made by the economy, said the jobs data delivered "very good numbers."
Get Started
"We need to be thinking about moving off the zero bound," he told CNBC in an interview. "Our ability to raise rates gradually would be greater if we started sooner."
Dennis Lockhart, president of the Federal Reserve Bank of Atlanta, said the jobs numbers were "quite encouraging," although he wanted evidence of inflation rising back toward the Fed's 2 percent goal before raising rates.
"I think all possibilities from June on should remain open," he said in a speech in Naples, Florida.
Michael Gapen, chief U.S. economist at Barclays Plc in New York, said the employment figures reinforce his call for a rate increase in June.
"This is a very solid report," he said. "It would feed their inclination to say things are pretty robust, we got it going in the right direction and zero is not the right rate."
The jobs report also revised December gains up to 329,000 from 252,000.
UBS AG Chief Economist Maury Harris advised clients in a note, "Don't be out of the office June 17," referring to the date of that month's scheduled FOMC meeting.
"With other measures of wages pointing towards normal wage gains, the data today will only serve to boost the Fed's confidence that they are reading the labor market correctly," Harris said.
Before it's here, it's on the Bloomberg Terminal.
LEARN MORE