How to 'Welcome' a Blockbuster Jobs Report Without Really Trying
How Republicans greeted the latest data on employment in the United States.
By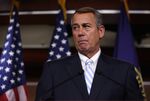 The first Friday of the month is another one of those Washington traditions: The Bureau of Labor Statistics brings in some prominent business journalists, locks them in a room, and hands them a press release summarizing the nation's economic situation. While they write, with their Wi-Fi turned off, politicians and government spokesmen eagerly await the news, preparing to spin the data-packed news to their party's advantage.
And normally there's plenty to spin. Maybe hiring is brisk but wages are flat, as they were in December's report. Maybe growth is big but smaller than expected, or losses are mounting but slowing.
What Republicans faced on Friday, however, was a jobs report that, simply put, "crushes it." Hiring beat expectations for one of the best months on the books, wages were up, growth crossed sectors, big reports from previous months got revised even higher, and discouraged workers jumped into the labor force.
While Democrats celebrated, House Speaker John Boehner had almost no choice but to open on an optimistic note. "It's always good news that more Americans are finding work," he said, according to a statement from his office. "That said, we know millions are still struggling and searching for a good job."
That was it. It is true, but it would be true even with a 2-percent unemployment rate. After that, Boehner pivoted to Republican legislation, saying it consisted of "common-sense jobs bills." Why didn't he elaborate? Well, his admonition on the December report that "far too many middle-class families are struggling to bridge the gap between rising costs and stubbornly flat paychecks" would have rung hollow. The report showed that average hourly earnings "increased by 12 cents to $24.75," or 0.5 percent, from the December report—the most since November 2008.
Republican National Committee Chair Reince Priebus took a stab at the message, too. He released a statement saying he was also "thankful" for the good news, but he complained that "The percentage of Americans in the labor force is at the lowest point since Jimmy Carter was in the White House." This has been a Republican talking point for a few months: The numbers only look good because the government doesn't count people who don't look for work, like children or (more importantly) those who have gotten so discouraged by the economy's difficulties that they've stopped looking for work.
The problem is that the rate isn't at record lows. It was last month, when the rate was 62.7. (Technically, it was actually a tie with September.) And the January rate of 62.9 was low by historical standards. But it was higher than the December rate, as well as the rate in six of the 12 months in 2014 and even two months in 2013.
The Republican who hit the mark was Wisconsin Rep. Paul Ryan, who likewise began with the "welcome news." "Still, this recovery is too fragile for far too many," the Ways & Means Committee Chair said in a statement. "And in the long-term unemployed there's a lot of potential that we are still not tapping." Gone was his reference to stagnant wages in the December report, and in its place was a truism: As of January, there are 2.8 million people who have been unemployed for more than 27 weeks in January. That number is up 15,000 from December.
It's a number that's coming down, but for a Republican party increasingly turning to a brand of economic populism, it's still too high. And it's likely the one they'll wield against the White House, at least for now.