How to 'Welcome' a Blockbuster Jobs Report Without Really Trying
How Republicans greeted the latest data on employment in the United States.
By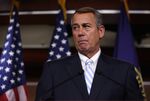 The first Friday of the month is another one of those Washington traditions: The Bureau of Labor Statistics brings in some prominent business journalists, locks them in a room, and hands them a press release summarizing the nation's economic situation. While they write, with their Wi-Fi turned off, politicians and government spokesmen eagerly await the news, preparing to spin the data-packed news to their party's advantage.