Heinz-Joachim Neubuerger, Ex-Siemens CFO in Scandal, Dies
Angela Cullen, Alex Webb and David Henry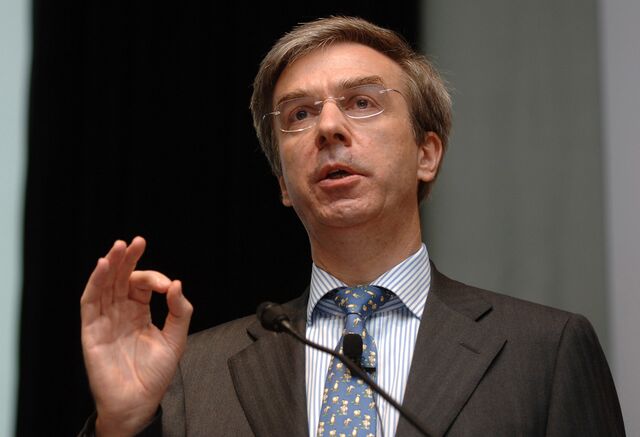 Heinz-Joachim Neubuerger, the former Siemens AG chief financial officer ordered to pay the German engineering company damages for his role in a bribery scandal, has died. He was 62.
Deutsche Boerse AG, on whose supervisory board Neubuerger served, said in a statement today that it was "saddened" at his death. Neubuerger took his own life, Manager Magazin reported last night, citing unidentified people close to him.
Neubuerger "was for us a valued adviser and partner in dialog," said Deutsche Boerse, the operator of Frankfurt's stock market. "We will miss him as a human being and as a member of our supervisory board." The former executive was CFO at Munich-based Siemens from 1998 to 2006.
Siemens won a Munich court ruling in December 2013 ordering Neubuerger to pay the company 15 million euros ($17.2 million) in damages following a bribery probe. He reached a settlement in August 2014 reducing the payment to 2.5 million euros, a figure that shareholders at Siemens's annual meeting approved on Jan. 27.
The company sought damages after investigations in more than a dozen countries revealed kickbacks and bribes to win contracts in the biggest bribery scandal in Germany's corporate history. Siemens agreed in 2008 to pay $1.6 billion to settle probes in the U.S. and Germany.
2009 Settlement
Siemens settled its own civil claims over who was responsible for the scam with six former executives in 2009. At the time, Heinrich von Pierer, who led the company from 1992 to 2005, agreed to pay 5 million euros, and Klaus Kleinfeld, his successor, 2 million euros.
Unlike fellow former executives who chose to settle earlier, Neubuerger contested allegations that he failed to break a web of corruption at the engineering company.
The decree ordering him to pay damages is considered a milestone in the law of manager responsibility in Germany. Known as the "Neubuerger ruling," the decision quickly became a catchphrase among corporate lawyers, triggering an avalanche of legal scholarship and debate at conferences and law schools.
It was also the central focus at a biennial lawyers conference in September in Hanover. Neubuerger, who wasn't a lawyer, was in attendance and even took the floor in the discussion.
KKR Job
Neubuerger served as managing director at New York-based KKR & Co. from 2007 to 2009 before setting up his own consulting company in London, according to Deutsche Boerse's website, which also lists him as deputy chairman of Hamburg Trust REIM Real Estate Investment Management GmbH.
Neubuerger was born on Jan. 11, 1953, in Marl, a town in northwestern Germany's industrial Ruhr region, according to Munzinger Archiv GmbH, an online research database.
After completing high school, he trained as an export merchant at the trading company Coutinho, Caro & Co. in Hamburg. He also earned a master's in business administration from Insead business school in Fontainebleau, France.
Neubuerger then turned to investment banking, becoming a trainee for J.P. Morgan & Co. in New York and Frankfurt. Starting in 1981, he led the export and project-financing department of the New York-based bank. Four years later, he became its head of corporate finance in Tokyo before assuming the same function in Frankfurt in 1988.
Siemens Career
His career at Siemens began in 1989 in Munich, working mainly in the finance department, Munzinger said. After stints as head of investor relations and director of treasury, he joined Siemens's management board in 1998 and took over as CFO from Karl-Hermann Baumann, who later became chairman of the supervisory board.
"I first got to know Heinz-Joachim Neubuerger in the mid-1980s while working on a nuclear power plant project in Turkey where he, as the department head of Morgan Guaranty, today JPMorgan, helped develop the financing -- and did so exceptionally creatively and above all 100 percent reliably," former CEO von Pierer wrote in his 2011 autobiography. "A little later, he moved to the Siemens finance department, built up the investor relations department and earned a great reputation both internally and externally."
Infineon Spinoff
Under von Pierer, Neubuerger helped sell or take public about 50 Siemens businesses with combined sales of 17 billion deutsche marks ($10 billion) and about 60,000 employees, according to Munzinger. The 1999 initial public offering of its joint-venture capacitor business created Munich-based Epcos AG, and the spinoff of its semiconductor unit established Infineon Technologies AG, also based in the Munich area, the same year.
Neubuerger also oversaw two capital increases in 1998 and 1999, as well as Siemens's entry on the New York Stock Exchange to boost the manufacturer's U.S. presence.
He resigned in 2006 after Kleinfeld, who became Siemens CEO the previous year, reshuffled the management board. Joe Kaeser succeeded Neubuerger as CFO.
"It's a difficult day with the news of Herr Neubuerger's tragic death," Kaeser said today in a statement. "I am deeply affected."
Before it's here, it's on the Bloomberg Terminal.
LEARN MORE