Growth Is Key Concern as GoPro, Yelp, Expedia Stocks Plummet
James Callan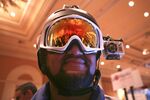 Concern that user growth may slow sent the shares of technology companies GoPro Inc., Yelp Inc. and Pandora Media Inc. down at least 14 percent Friday.
The companies, which all went public within the past four years, posted quarterly results Thursday after the close in New York that highlight the challenges they face in keeping the pace of adding users.
GoPro, the maker of wearable cameras used by surfers and sports enthusiasts, slid 13 percent. Pandora fell 17 percent and Yelp tumbled 22 percent. Expedia Inc. slumped 12 percent after the online travel site's earnings trailed analysts' estimates.
Pandora, the largest Internet radio service, and Yelp, the online-reviewing website, are grappling with increased competition for advertising revenue and apprehension over customer growth. Yelp posted its first-ever sequential decline in monthly active users in the last quarter as competition intensified from the likes of Google Inc. While Pandora's user base is increasing, the rate of growth has slipped.
GoPro, which has been trading at more than twice the price of its June initial public offering, said sales this quarter will fall 46 percent from the previous three months. The forecast sparked concern that the company is too dependent on the holiday period for sales of its cameras.
"If the fourth quarter was up so strongly from the year before, why isn't the first quarter up as much?" said Andrew Uerkwitz, an analyst at Oppenheimer & Co., who rates the shares underperform. "It's making investors wonder whether this is a one-hit wonder kind of stock."
GoPro, based in San Mateo, California, fell 13 percent to $47.12 at the close in New York. Pandora, based in Oakland, California, fell 17 percent to $15.24. Yelp, headquartered in San Francisco, closed down 22 percent to $45.11.
Not all tech stocks took the plunge Friday.
Shares of Twitter Inc. surged 16 percent after the company posted quarterly revenue that exceeded estimates and confirmed a deal with Google to make tweets easier to find in searches. LinkedIn Corp. gained 11 percent as its profit forecast beat estimates amid a push in China and new products.
Before it's here, it's on the Bloomberg Terminal.
LEARN MORE