Tsipras Charts Path Forward for Greece as Funds at Risk
Corina Ruhe, Eleni Chrepa and Marcus Bensasson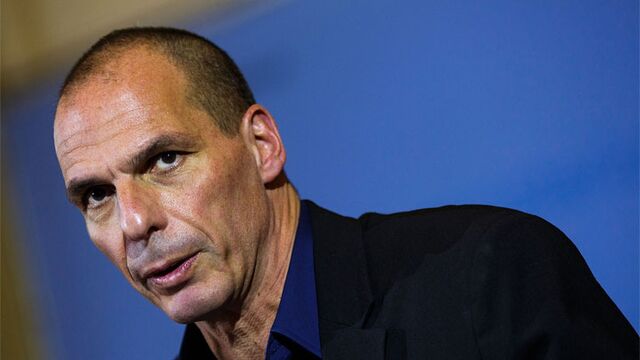 Prime Minister Alexis Tsipras will chart a path forward for Greece in parliament on Sunday, two days after the head of the euro-area finance ministers' group shot down his proposal to avoid being shut off from funding at the end of the month.
The new government's request for a debt writedown has already been rejected, and Eurogroup chief Jeroen Dijsselbloem on Friday rejected a request for a short-term financing agreement to keep the country afloat while it renegotiates the terms of its bailout program.
"We don't do" bridge loans, Dijsselbloem told reporters in The Hague, when asked about Greece's request. "A simple extension is possible as long as they fully take over the program."
The European Union's latest rebuff raises the stakes for Greece's new government. The next showdown is scheduled for Feb. 11 in Brussels, when Greek Finance Minister Yanis Varoufakis faces his 18 euro-area counterparts in an emergency meeting after Tsipras delivers his major policy address to lawmakers.
The cabinet was scheduled to meet at 3 p.m. Saturday, followed by a meeting at 5 p.m. of the parliamentary caucus of Tsipras's Syriza party, to discuss what will go into his policy plan on Sunday, the Athens News Agency reported.
Credit Rating
Standard & Poor's lowered Greece's long-term credit rating one level to B- and kept the ratings on CreditWatch negative.
"Liquidity constraints have narrowed the timeframe during which Greece's new government can reach an agreement with its official creditors on a financing program, in our view," S&P said in a statement on Friday.
Greek stocks and bonds rebounded at the start of the past week after the government dropped its debt writedown demand. The trend reversed on Feb. 5, and the yield on 10-year bonds jumped 42 basis points to 10.11 percent on Friday, with the Athens Stock Exchange index falling 2 percent, after Dijsselbloem rejected the bridge financing.
The U.S. urged Greece to exercise fiscal prudence and continue structural reforms in meetings between U.S. Treasury Department Assistant Secretary Daleep Singh, Varoufakis and other Greek officials in Athens Friday, the U.S. Embassy said in a statement on its website.
European Colleagues
"The United States believes that it is very important for the Greek government to work cooperatively with its European colleagues, as well as with the IMF," U.S. Ambassador to Greece David Pearce said in the statement.
Greece's goal remains to achieve a bridge program that would give it time to negotiate with its creditors and devise a three- to four-year fiscal plan, a Greek government official said, asking not to be named in line with policy. This program wouldn't include more loans from its bailout creditors, he added. Instead, the government wants to be able to increase its stock of Treasury bills beyond its current limit of 15 billion euros ($17 billion) to cover any extraordinary financing needs that arise, the official said.
Existing Bailout
Varoufakis has said his government won't accept any more cash under the terms of Greece's existing bailout, leaving 7 billion euros of potential aid on the table, rather than complying with demands for more austerity attached to the country's international bailout agreement.
"Practically speaking, our proposal is that there should be a bridging program between now and the end of May, which would give us space -- all of us -- to carry out these deliberations and in a short space of time come to an agreement" Varoufakis said after meeting German Finance Minister Wolfgang Schaeuble in Berlin on Feb. 5.
Most Indebted
The standoff risks leaving Europe's most-indebted state without any funding as of the end of this month, following the Jan. 25 election victory of Tsipras's Syriza party.
"It will be a first step in how we want to proceed together in the next weeks, months," Dijsselbloem said, as he cautioned that a discussion over the terms of the bailout program would mean "we no longer talk about a simple extension."
Tsipras is preparing to set out the most detailed account yet of his plans to revive the Greek economy that aims to honor his commitments to voters without further riling his European creditors.
Tsipras, 40, on Sunday in parliament will present his legislative agenda at the start of a three-day debate leading up to a confidence vote to confirm his government.
'Very Delicate'
"Tsipras is in a very delicate position," said Dimitris Sotiropoulos, an associate professor of political science at the University of Athens. "If there are some compromises to be made and painful measures to be taken, these are urgent now that the government still has a high approval rating."
While there's little doubt Tsipras will win the confidence vote on Tuesday night -- his coalition has 162 seats in the 300-seat chamber -- attempts to persuade the rest of the euro-region to endorse his plan to restructure the country's debt and boost spending have so far drawn a blank. Tsipras and Varoufakis, have been recalibrating their rhetoric this week after markets plunged during their first days in office.
Before it's here, it's on the Bloomberg Terminal.
LEARN MORE