Drought-Stricken Western States Get $50 Million in U.S. Relief
Michael B. Marois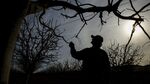 The U.S. government will provide $50 million to western states to increase the efficiency of water systems as California suffers from a record drought.
California will get about $29 million of the funds, U.S. Secretary of the Interior Sally Jewell told reporters Friday in Sacramento, the state capital, where she met with Governor Jerry Brown. The money could be used to improve infrastructure for water supplies, drought monitoring and protecting endangered species, among other purposes.
Three years of near record-low rain and snowfall has left California's reservoirs less than half full, leading to water rations that have laid fallow millions of acres in the nation's most-productive agricultural region. Wildfires are on the rise, and fish populations are at risk. Some communities have restricted water use to a fraction of normal levels, with residents facing fines for waste.
"California's ongoing drought is wreaking havoc on farmers, ranchers, municipalities, tribes and the environment," Jewell said. "With climate change, droughts are projected to become more intense and frequent in many parts of the West, so we need to pursue every measure to provide relief and support to communities who are feeling the impacts."
Extreme Drought
Seventy-seven percent of California is experiencing extreme drought, according to the federal government's National Drought Mitigation Center.
The first winter storm to hit the state since December began rolling through the region Friday. The storm is expected to drop as many as 10 inches (25 centimeters) of rain in parts of Northern California. Because of warm weather, it's not expected to be large enough to replenish the state's snow pack, which is at 25 percent of normal levels for this time of year.
"California is facing a very serious drought," Brown said.
California typically receives about half of its precipitation in December, January and February. Much of that falls as snow in the Sierra Nevada mountains.
Except for a strong storm in December, little rain has fallen. It didn't rain at all in San Francisco in January, the first time that's happened in 165 years.
Drought Emergency
Brown last year declared a drought emergency, calling on residents to curb water use by 20 percent and warning of possible mandatory restrictions. California met that goal for the first time in December, when water use dropped 22 percent from a year earlier, according to the State Water Resources Control Board.
California voters in November approved Brown's $7.5 billion water-bond ballot measure to increase water storage and delivery to drought-stricken cities and farms.
The water control board in July approved emergency statewide rules that impose fines of as much as $500 a day on those who over water lawns and wash cars with hoses that lack shutoff nozzles.
Communities from San Diego to the Oregon border have restricted lawn watering, car washing and service of water to restaurant patrons.
Before it's here, it's on the Bloomberg Terminal.
LEARN MORE