China in Rate Bind as Yuan, Yield Premium Drop: Chart of the Day
Bloomberg News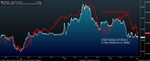 The yuan's worst start to a year on record has China's policy makers in a dilemma: if they keep interest rates high, the economy suffers. If they cut, the yuan declines and spurs capital outflows, and the economy suffers.
The CHART OF THE DAY shows the yuan tends to weaken as the extra yield investors earn on China's two-year bonds over U.S. notes begins to drop. The currency fell 0.76 percent against the dollar in January, the most for the month in China Foreign Exchange Trading System records since 2007. The yield gap will narrow to 170 basis points by the end of this year, from 256 on Thursday, according to Bloomberg surveys of economists, signaling a further decline in the yuan.
The People's Bank of China Wednesday reduced the percentage of deposits major lenders must set aside as reserves, after cutting interest rates for the first time in two years in November to combat the slowest economic growth since 1990. While the central bank added a net 195 billion yuan ($31.2 billion) to the banking system in the past three weeks, it kept rates close to prevailing market levels.
"The combination of the RRR cut and the lack of a reduction in open-market operation rates signals the PBOC is still targeting relatively neutral monetary policy, rather than outright easing," said Li Liuyang, Shanghai-based chief financial market analyst at Bank of Tokyo-Mitsubishi UFJ (China) Ltd. "The yuan's depreciation pressure amid capital outflows and lower borrowing costs is a factor of concern that may deter any imminent interest-rate cut."
Outflows rose to a record $91.2 billion in the fourth quarter as the currency fell 2.4 percent last year in the first annual retreat since 2009. The yuan declined 0.07 percent to close at 6.2521 a dollar in Shanghai on Thursday.
The PBOC Wednesday said major banks' reserve-requirement ratios will fall 50 basis points to 19.5 percent effective Thursday. The changes will free up an estimated 600 billion yuan, according to Australia & New Zealand Banking Group Ltd.
— With assistance by Helen Sun
Before it's here, it's on the Bloomberg Terminal.
LEARN MORE