All Those Minimum-Wage Jumps Barely Mattered in January's Income Spike
But every little bit helps
by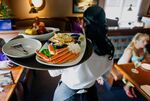 U.S. workers saw a spike in wages in January that was the most dramatic since 2008, Friday's jobs report showed. The 0.5 percent gain from December was probably helped—but not caused—by higher minimum wages that have just taken effect in 20 states.   
Minimum wages increased from New York to Arkansas at the start of this year. That probably boosted average hourly earnings for all workers by 0.045 percent in January, Société Générale economists estimate.
While about 1.5 percent of the U.S. workforce received a minimum-wage hike, Morgan Stanley researchers wrote in a Feb. 6 note, those workers count for way less than 1.5 percent of the nation's total wage bill. In other words, as the researchers explain, one worker earning $100 an hour has the same weight in the average earnings calculations as 10 workers earning $10 an hour.
That means job-market fundamentals, not a one-time boost in pay rates, are probably the reason Americans have more money in their pockets. 
The minimum-wage increase "was only a small part of the pop you saw'' in average hourly earnings, implying some underlying momentum in wage growth, said Michael Feroli, chief U.S. economist at JPMorgan Chase. Feroli is the top forecaster of average hourly earnings over the past two years, according to data compiled by Bloomberg. 

So what explains wage gains? Strong payroll growth, for one thing. The U.S. posted the biggest three-month job gain in 17 years through January, Friday's Labor Department report showed. The 257,000 advance in payrolls last month followed a 329,000 gain in December that was bigger than previously reported,  and the improving job market is drawing Americans back into the labor force. 
"Job growth at the end of 2014 was remarkable, and that momentum has carried forward into early 2015," Omair Sharif, an economist with Newedge USA, a New York brokerage firm, wrote in a note to clients. "At this pace, whatever slack you believe exists in the market is going to be soaked up quickly, likely putting upward pressure on wages."
The gain also marked a rebound from weak December data, when wage growth actually retreated 0.2 percent from the prior month. Even so, the January advance "is more of a story about better wage gains in higher-paying sectors," Sharif wrote. "That is exactly the kind of situation that will move the needle on average hourly earnings." 

January's Labor Department figures included an annual benchmark update, which aligns employment data with corporate tax records. The revision was skewed toward higher-paying industries and may have boosted wage data, said Brian Jones, a senior U.S. economist at Société Générale.  Nevertheless, he said, the improvement was solid—including a 2.2 percent uptick in average hourly earnings from a year ago that outshone the 1.9 percent median forecast in a Bloomberg survey of economists. 
"It's a much better overall increase than people were looking for," Jones said. 
Pay increases based on underlying economic momentum will be important for Federal Reserve policymakers as they gauge whether it's time to increase the nation's main interest rate from near-zero. 
"We do not view faster wage growth as a precondition to Fed tightening, although more rapid wage growth would certainly make the committee's decision easier," Michael Gapen, chief U.S. economist at Barclays, said in a note after the report. "We believe this report leaves the Fed's mid-year rate hike guidance in place."
Before it's here, it's on the Bloomberg Terminal.
LEARN MORE