A Gray Whale Has Been Spotted in a Narrow Urban Channel in Tacoma, Washington
Local reporters are speculating the beast may be sick or hurt.
John Metcalfe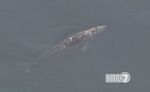 A news chopper flying over Tacoma, Washington, this morning spotted what looks like a gray whale, passing through a narrow and boat-cluttered urban channel called the Thea Foss Waterway.
KIRO 7 reporter Michelle Millman wondered what the gentle leviathan was doing there, positing a possible link to poor health:
Environmental nonprofit Citizens for a Healthy Bay has mentioned also seeing the whale. As of now, no more sightings have emerged on news sites or social media (though KIRO 7 might update later on).
This map shows how skinny the Foss Waterway is:

And here's a clear shot of the channel, which is dense with boats: