Stunned Wall Street Cries: 'Sell Treasuries!'
Lisa Abramowicz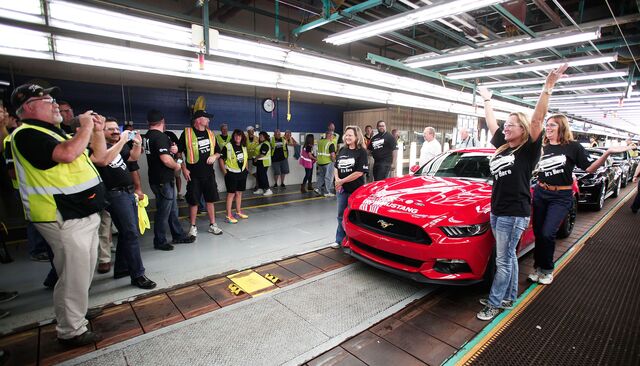 Less than three minutes after markets learned the U.S. just capped the greatest three-month jobs gain in 17 years, the message was clear to Brean Capital LLC's Peter Tchir: "Sell Treasuries."
That's what he wrote to clients. "The number was big," the head of macro strategy at the securities firm wrote in an e-mail at 8:32 a.m. in New York. "Rates will sell off."
Indeed. Yields on 2-year Treasuries increased the most Friday since 2010, jumping 0.13 percentage point to 0.65 percent, according to Bloomberg Bond Trader data.
Bond bears have been disappointed lately, waiting for the economy to pick up enough to justify higher interest rates from the Federal Reserve. The jobs report -- which showed payrolls advanced by 257,000 last month and delivered the biggest wage increase since 2008 -- should give them new confidence.
"The market is starting to realize that we may get earlier hikes than expected," Mohamed El-Erian, chief economic adviser at Allianz SE, said in a Bloomberg Television interview today.
After the jobs report, traders pulled forward their expectations for when the Fed will raise borrowing costs from near zero, where they've been since 2008. Futures contracts show a 27 percent chance of a June rate increase, up from 18 percent on Thursday.
Oil Rally
It's not just the labor market that's giving ammunition to to the view that higher rates are coming. Oil also just capped its biggest two-week rally since March 1998, alleviating concerns that the commodities drop will ruin the U.S. outlook.
The bond market is now pricing in annual inflation of 1.49 percent for the next five years, up from 1.07 percent just a month ago, according to break-even rates on Treasury Inflation Protected Securities. That's a lot closer to the Fed's 2 percent target.
At the same time, derivatives traders still don't see the economy strengthening enough to compel the Fed to raise its benchmark rate above 2 percent by the end of 2018. The Fed's longer-run forecast for rates is about 4 percent.
In the near-term, Wall Street sees enough momentum to get the Fed moving. The latest predictions are for yields on benchmark 10-year Treasuries to climb to 2.71 percent this year from 1.96 percent today, according to a Bloomberg survey. Maybe they'll actually be close to right.
Before it's here, it's on the Bloomberg Terminal.
LEARN MORE