Why Argentina's President Really Can't Afford to Mock China
The president of Argentina apparently forgot that it's not smart to make fun of the people who are bailing out your country
By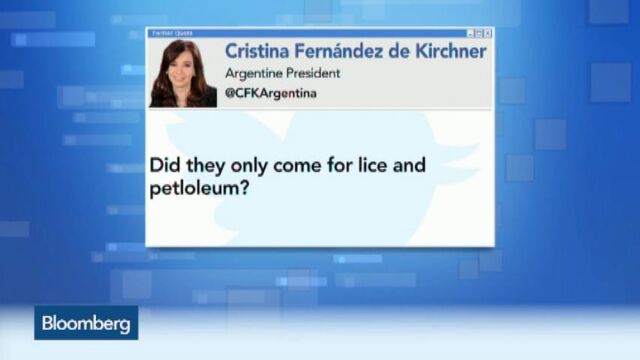 Next time, Cristina Fernández de Kirchner might want to listen to her doctors.
The Argentine president, already mired in a furor at home over the mysterious death of a prosecutor who had accused her of graft, posted a message on Twitter during her visit to Beijing that mimicked a stereotypical Chinese accent, asking about "lice" instead of "rice" and "petloleum" rather than petroleum. It tuns out that Fernandez went to China even though her physicians had told her not to travel because of her bum ankle, according to the official China Daily newspaper. She told her hosts she could barely walk before her visit. 
Still, there was no stopping her China travel plans—and that's due in no small part to China's huge role in Argentina's economy. "I came out of my desire to be here with you," Fernández said in Beijing, "with our partners who are coming to sign agreements." China's official news agency decided the best strategy was to avoid the embarrassing story in its coverage. Fernández met with Chinese President Xi Jinping, who said afterwards he was "even more confident of the outlook for China-Argentine relations," according to a report by the official Xinhua News Agency. 
Making fun of the Chinese is especially dangerous for Fernández, given the Chinese appetite for one of Argentina's most important exports—soybeans. China is the one overseas buyer for soybeans that really matters, accounting for 73 percent of the market among major importers. China's imports surged 17.5 percent last year, to 70 million metric tons, and are likely to increase another 5.2 percent in 2015. Argentina, the world's third-biggest grower of soybeans, exported just under 8 million metric tons worldwide last year.
Argentina's farmers can't afford a spat with the Chinese government, which has already shown a readiness to use them as a pawn in a trade war. In 2010, China banned imports of Argentine soybean oil over worries about solvent residues. It didn't help matters that the two countries also were squabbling about other industries, such as textiles and kitchen products. China eventually relented, and the country is now Argentina's second-largest trading partner, after Brazil. 
Another dispute would be costly, given Argentina's current weakness. Exports of Argentine soybean oil dropped 3.5 percent last year, although the U.S. Department of Agriculture expects them to rebound in 2015. Total exports of soybeans gained only 1.3 percent last year, and the forecast for this year doesn't look much better.
China is also helping to keep Argentina's precarious finances in order. When Xi visited Buenos Aires last July, just before the latest default by Argentina, the Chinese leader signed a deal to establish an $11 billion swap agreement. The Argentines have been taking advantage of that generosity, drawing close to $3 billion since then. An official from the Argentine central bank told Bloomberg last month that the country would turn again to China, increasing its foreign exchange reserves by $400 million. The deal "helped to reduce the perception that the country may be heading to yet another currency run," Goldman Sachs economic Mauro Roca wrote in December.
Argentina isn't the only country in South America benefiting from Chinese generosity. Hurt because of the falling price of commodities—a plunge driven in part by the slowdown in the Chinese economy—both Venezuela and Ecuador have also received funds from China to prop up their foreign-exchange reserves. China has provided them a combined $27.5 billion in funding and investment, Bloomberg reported last month.
Given that sort of money from China, it's easy to see why the same day Fernández posted her accent-mocking message on Twitter, she also told Xi of Argentina's interest in increasing the amount of its currency swap with China, according to Xinhua. All joking aside, Argentina's leader understands how much her country needs China's help.