TransAsia Shares Extend Declines After Plane Crashes in Taipei
Clement Tan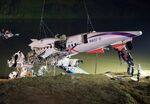 TransAsia Airways Corp. shares extended their decline in Taipei trading after the Taiwanese airline suffered a second fatal accident in less than a year.
The stock fell 4.5 percent to NT$11.60 at 9:22 a.m. in Taipei, after being down by as much as the 7 percent daily limit. The stock fell 6.9 percent yesterday after Flight 235 crashed shortly after takeoff from Songshan domestic airport in downtown Taipei, killing at least 31 people and injuring 15.
The ATR 72-600 aircraft, a twin-engine turbo-propeller model carrying 53 passengers and 5 crew, was on an hour-long flight to the island of Kinmen off mainland China. The pilot lost contact with the ground within four minutes, the airline's Chief Executive Officer Peter Chen said yesterday.
Pilots of GE235 made a distress call about two minutes after being given the go-ahead to take off, according to a recording of air traffic control communications.
Another TransAsia ATR crashed in July last year, killing 48 people. That plane went down after the pilots couldn't find the runway seconds before their aircraft slammed down on Taiwan's outlying Penghu islands, according to an accident report. Ten people survived that crash, which was also an ATR 72 twin-engine turbo-propeller aircraft.
Before it's here, it's on the Bloomberg Terminal.
LEARN MORE