Style Guide
This Is How You Crush It on Date Night, Sartorially Speaking
Seven key pieces to wear on Valentine's Day and beyond (gifts not included)
By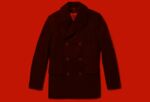 If prompted (by article writing), I can recall one of my more memorable Valentine's Day dates for two reasons.
One: I broke the law.
I was 19, and my boyfriend at the time and I thought it would be super romantic to dine and dash at one of our favorite pizza joints* in celebration of our young love, or whatever. (Oh, adolescence!) Afterward, we drank a bottle of Boone's Farm Fuzzy Navel with our feet in the sand, as we listened to the waves break on the Florida shore to a soundtrack of Dave Matthews Band and O.A.R. (See how I just editorialized my moment of crime to make it sound pseudo-romantic?)
And two: He wore pink.
A pink oxford shirt to be exact, which I believe was the only long-sleeve button-down shirt he owned. I remember it matched the sun-kissed skin on his nose and accentuated his toothy, expectations-laden grin (as well as the red-and-white checkered tablecloth and ruby red plastic tumblers of the pizza place).
Some 15 years (and 10 Valentine's dates or so) later, I still remember that pink shirt. So take note, gents: What you wear come Feb. 14 does matter (at least in the immortalized memory of your current significant other).
Below, I rounded up seven no-fail wardrobe performers to keep in your date-night arsenal. V-Day may happen only once a year, but dressing to impress is a campaign you'll want to continually crush.
*I'd like to take a moment to publicly apologize to the waitress at Stavro's Pizza in New Smyrna Beach, who in 1999 witnessed me jump in the cab of a black Ford F-150 instead of paying, like a respectable undergrad, for my Greek salad and Diet Pepsi.
 The Slim Navy Peacoat

What's more handsome than you in this navy Burberry peacoat? (Hint: Not Rand Paul in his dad jeans.) $995; mrporter.com
The Check Suit

This Havana gray check suit by Suitsupply is a heartbreaker (and I mean that in the most devastatingly awesome way). $569; suitsupply.com
The Cream Cords

When the venue calls for a denim upgrade (free tip for Rand: That means a Koch brothers networking event), try a sand-colored corduroy pant—like this pair by Bottega Veneta. $490; matchesfashion.com 
The Pullover Cashmere Sweater

Skin-on-skin contact is the only thing that feels better than cashmere, like this pullover knit by A.P.C. $250; mrporter.com
 The Knit Tie

A non-shiny chevron-print tie option, like this one from Club Monaco, is better suited for romance than it is for the boardroom. $79.50; clubmonaco.com
The Tan Brogue

Not to outshine your date, these buttery tan brogues by Grenson are certified ladykillers (by me). $405; eastdane.com
The Red Scarf

One piece of holiday-appropriate flair is enough, so keep it simple like this Gant wool fringe scarf in a red that's reusable for other occassions. $64; menlook.com
Nic Screws is the style director for Bloomberg. She is a cheap date (as outlined in the above memory). Follow her on Instagram and Twitter. 
Before it's here, it's on the Bloomberg Terminal.
LEARN MORE