The Brian Williams Scandal Principle
Is the liberal media constantly protecting hoaxers from harm?
By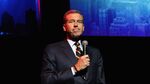 On Tuesday, Stars and Stripes reporter Travis Tritten broke the news that Brian Williams had been telling fish stories about reporting at the start of the Iraq War. He'd said several times that his news crew was saved by soldiers when the "helicopter we were traveling in was forced down after being hit by an RPG." His helicopter had not been hit. His apology–that he was merely making a "bungled attempt" to honor heroes–was roundly criticized.
Yet for many conservatives, the story was that Williams would probably get away with this. As the story burned up Twitter, references to Williams were married to callbacks about Democratic politicians who had been caught lying about battlefield danger. The common theme was that Connecticut Senator Richard Blumenthal, former Iowa Senator Tom Harkin, and former New York Senator Hillary Clinton had all been rescued by a media that demands nothing from the left. Said John Bolton, the former American ambassador to the United Nations, and a potential dark horse presidential candidate:
[Williams] said he misremembered that maybe he hadn't actually been hit. So I thought maybe he had been speaking with Hillary Clinton, and they had been comparing stories about being under fire in a war zone and then they realized they weren't under fire.
Matt Welch, the editor in chief of Reason (and my boss throughout 2008):
Weekly Standard reporter Jim Swift:
 Phenomenally popular Twitter humorist David Burge (who has close to 100,000 followers, and a very high joke hit rate):
Slightly less-followed RedState editor Dan McLaughlin:
Author Joel Engel:
And so on. This phenomenon needs a name: The insistence that scandals that embroil Democrats, covered and/or broken by the media, were in fact covered up.
The three Democratic senator war stories, for example, were debunked by the New York Times (Blumenthal), Washington Post columnist David Broder (Harkin), and the Washington Post's fact-checking blog (Clinton). None of these people were chased out of politics, but they all took on water. Blumenthal, running for U.S. Senate, watched a poll lead dwindle from as high as 41 points to single digits. Clinton, who was gaining ground on Barack Obama, won the Pennsylvania primary but never quite overtook the insurgent challenger. Harkin's war story (which consisted of him inflating aircraft-testing flights over Vietnam into "combat air patrols") didn't stop his 1984 Senate victory, but dogged him when he tried to run for president in 1992.
Sure, all three politicians stayed relevant and electable. So has Louisiana Senator David Vitter, years after being spotted in a madam's book of clients; so has Louisiana Representatie Steve Scalise, after admitting that he'd probably spoken at an event put on by a David Duke-founded white-pride group. The most reliable rule in scandal culture is that people who do not resign, and whose party benefits from rallying around them, can hunker down through the news cycle and come out with "comeback" stories. The idea that only liberals survive scandals, and that the liberal media covers up for them, is confirmation bias at its purest.
If Williams suffers no consequences, he goes into the anecdote pool. If he doesn't, the question becomes why the press covered up for those other guys–regardless of the press's own role (and delight) in covering juicy scandals.