The Brian Williams Scandal Principle
Is the liberal media constantly protecting hoaxers from harm?
By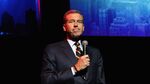 On Tuesday, Stars and Stripes reporter Travis Tritten broke the news that Brian Williams had been telling fish stories about reporting at the start of the Iraq War. He'd said several times that his news crew was saved by soldiers when the "helicopter we were traveling in was forced down after being hit by an RPG." His helicopter had not been hit. His apology–that he was merely making a "bungled attempt" to honor heroes–was roundly criticized.