Suntory Puts Asia's Biggest Booze Buyer on 3-Year Hold
Monami Yui and Tesun Oh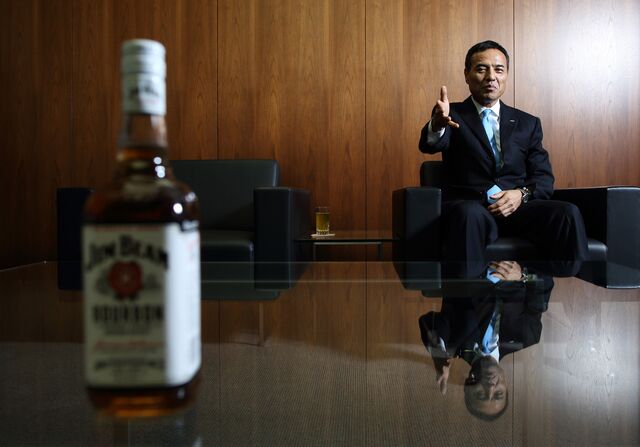 After a $16 billion whiskey binge, Suntory Holdings Ltd. is keeping its wallet in its pocket.
Suntory, Asia's biggest-spending beverage acquirer over the past five years, plans to hold off on buying overseas companies for three years, President Takeshi Niinami said in an interview.
The company hired Niinami from convenience store operator Lawson Inc. in October as Japan's shrinking and aging population compels it to look abroad for growth. Suntory's $16 billion purchase of U.S. spirits maker Beam Inc. last year has helped raise the portion of revenue from overseas, while boosting debt and causing its credit rating to drop.
"It's too early," Niinami said. when he was asked about further cross-border acquisitions. "We can't be a global player unless the Beam deal turns out successful."
Niinami said he wants to be more than just a player: He is aiming to become the world No. 1 in hard liquor and soft drinks, meaning he'll have to overtake Diageo Plc. in spirits and companies like Pepsico Inc., Coca-Cola Co. and Nestle SA in non-alcoholic drinks.
Adding Beam, maker of Jim Beam bourbon, Canadian Club and Maker's Mark whiskey, makes Suntory the world's sixth-largest spirits maker by 2013 volumes, overtaking Bacardi Ltd., according to research firm Euromonitor International Ltd.
Beam Focus
Niinami said he's working on integrating Beam, whose U.S. distribution network gives Suntory wider access to the growing market for whiskey. At home, the company's soft drinks unit is looking into whether to purchase Japan Tobacco Inc.'s vending machine business, the executive said, adding he will leave the decision with the subsidiary.
The 56-year-old Harvard Business School graduate is focused on making the Beam deal work after replacing Nobutada Saji, 69, to become the first person outside the founding family to lead the 116-year-old company.
The Beam acquisition was Saji's final deal after acquisitions including French soda maker Orangina Schweppes and New Zealand's Frucor Beverages Group Ltd.
Cross-border deals, including the 1.35 billion pound ($2 billion) purchase of the Lucozade and Ribena drink brands from GlaxoSmithKline Plc in 2013, have raised revenue from outside Japan to a quarter of the total as of that year.
At Lawson, Niinami oversaw 11 consecutive years of rising operating profit starting in fiscal 2004 after taking over as president in May of 2002.
The convenience store chain is 32 percent owned by Mitsubishi Corp., the trading group Niinami joined in 1981, the same year he graduated Keio University with a degree in economics.
Brand Ambition
Niinami said he has ambitions to make Suntory into a top global brand, citing Nestle, Coca-Cola, and Unilever NV as consumer powerhouses he'd like to "catch up" with.
Suntory still needs to raise profit at companies it has already purchased and improve its ability to finance cross-border deals, Niinami said.
Ninami said Suntory can almost double sales by 2020, reaching its 4 trillion yen ($34 billion) target by 2020 without additional overseas takeovers. The company expects sales this year to reach about 2.44 trillion yen, according to its presentation materials.
Japan Tobacco said on Wednesday it would exit the drinks business and may consider selling its beverage vending operations.
Niinami said he left the issue of whether to pursue an acquisition of vending machine operations with the soft drinks division. "They're looking into it but I can't make any comment because I left the matter with them," he said.
Beverage Unit
Suntory Beverage & Food Ltd., the soft-drink unit that contributes more than half of revenue, has gained 31 percent in Tokyo trading from its June 2013 initial public offering price.
Beverage unit Chief Executive Officer Nobuhiro Torii had said in an interview in December 2013 that the company would wait a year before considering more acquisitions.
Saji said last year mergers and acquisitions is "one option" to improve Suntory's sales growth, adding that the company had no specific acquisition targets at that time. Saji had said he wanted a successor suited for global business.
Suntory Holdings has made four purchases over the past 5 years totaling $15.7 billion based on transaction value, the most among beverage companies in Asia, according to data compiled by Bloomberg.
Debt Pile
Net debt totaled 1.83 trillion yen ($15.6 billion) in September, swinging from a cash surplus a year earlier, according to data on the company's website. Interest bearing debt was forecast to climb to 5.2 times earnings before interest, taxes, depreciation and amortization as of last year, the figures showed.
In May, Moody's Investors Service cut Suntory's credit rating to Baa2 from A3, citing the company's "high" leverage after acquiring Beam.
Suntory, also Japan's No. 3 beermaker, isn't expecting as much global growth from that business, Niinami said.
Suntory walked away from merger discussions with Japan's No. 1 beverage maker Kirin Holdings Co. in 2010 because it couldn't secure control of the company. Niinami isn't restarting the talks, he said.
''I don't think we can become the world's top beer maker,'' said Niinami. "We want to focus on products such as hard liquor and soft drinks that could make us the world champion."
(Corrects to clarify that Niinami will leave the decision about JT's vending machine business to Suntory's drinks unit in seventh paragraph and the fifth paragraph under Brand Ambition subheadline in a story published on Feb. 6.)
Before it's here, it's on the Bloomberg Terminal.
LEARN MORE