Sanofi to Appoint CEO This Quarter as Applicants Abound
Simeon Bennett and Albertina Torsoli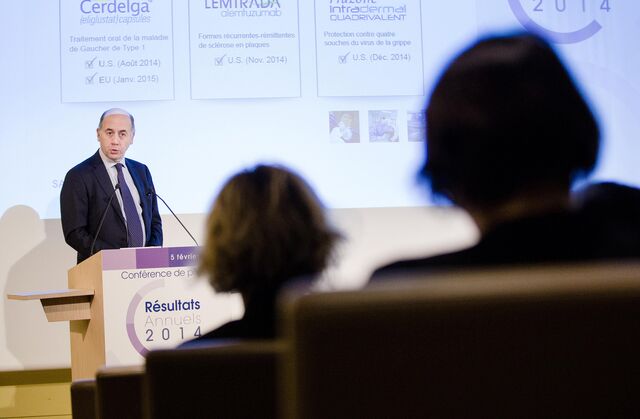 Sanofi expects to appoint a new chief executive this quarter and said it hasn't struggled to find candidates to fill former CEO Chris Viehbacher's shoes.
The nomination committee "has been pretty active," Chairman Serge Weinberg told reporters today. "Now we are in the final stage and we are going to be in a position to announce the new CEO in the course of the first quarter."
Weinberg, 63, is on a mission to reassure investors the company is on track for growth, three months after France's largest drugmaker fired Viehbacher and said sales at its key diabetes business were stalling. Weinberg is filling the CEO job while Sanofi seeks a replacement.
Takeda Pharmaceutical Co.'s Christophe Weber and AstraZeneca Plc CEO Pascal Soriot are among the executives who weren't interested in the Sanofi job, people familiar with the matter have said. Other potential candidates included Smith & Nephew Plc Chief Executive Officer Olivier Bohuon and Olivier Brandicourt, head of Bayer AG's health-care business, people familiar with the process said in November. A job at Sanofi isn't on the agenda, Bohuon told investors on Jan. 13.
No Ambiguity
Some contenders reported by the media are wrong, Weinberg said today. "There are a number of candidates that I discovered in the press that we never talked about."
The new chief executive will come from outside Sanofi, Weinberg said. The board is talking to a "limited number of candidates," selected after the company contacted executives it deemed suitable and received spontaneous applications, said Weinberg, adding that has no plan to remain CEO himself.
"Things have been very clear since the beginning, I'm not going to be the next CEO," Weinberg said. "There should be no ambiguity on this."
Weinberg also ruled out a scenario in which the new manager wouldn't have real powers. Sanofi's new CEO "will be the boss" and will be able to propose strategy changes, he said, talking to reporters after a press conference in Paris.
Sanofi advanced 3.6 percent to 84.53 euros after the company said earnings per share excluding some costs and currency movements will be "stable to slightly growing" this year. This gives France's largest drugmaker a market value of 111.5 billion euros ($128 billion).
The euro's weakness against the dollar may boost earnings as much as 5 percent, according to the forecast released today. Analysts were predicting a 3.8 percent gain, based on the average of 31 estimates compiled by Bloomberg.
Critical Time
"Their guidance is actually decent and they're telling you that they'll announce the CEO before the end of the first quarter," said Michael Leuchten, an analyst at Barclays Plc in London. "That's really going to be the driver of the stock performance."
The stock climbed 9.5 percent through yesterday since Weinberg and the board ousted Viehbacher in October, compared with a 14 percent gain in the Bloomberg Europe Pharmaceuticals Index.
The search for a new CEO comes at a critical time. Sanofi loses U.S. patent protection this month on its best-selling insulin Lantus, though it has said it doesn't expect to face competition from a biosimilar substitute anytime soon.
To regain ground against a more immediate rival, Denmark's Novo Nordisk A/S, Sanofi has reorganized its U.S. diabetes operations, replacing a third of sales managers, boosting its sales force and offering them stronger pay incentives. Diabetes is Sanofi's biggest business, accounting for more than 20 percent of sales, and in recent years Lantus lost market share to Novo Nordisk's Levemir.
Sanofi said November 18 new products it plans to introduce by 2020 could garner cumulative sales of 30 billion euros over the first five years.
Profit last quarter rose less than 1 percent to 1.83 billion euros, or 1.39 euros a share, the Paris-based company said today. Analysts had predicted earnings of 1.81 billion euros, or 1.38 euros per share. Sales climbed 7 percent to 9.07 billion euros, helped by the strength of the U.S. dollar against the euro.
Before it's here, it's on the Bloomberg Terminal.
LEARN MORE