Rick Perry's Donor List Is a Sports Almanac
The former Texas governor names his early money team in a bid to stay in the 2016 mix.
By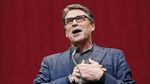 Former Texas Governor Rick Perry has drafted a lineup of sports figures to help finance his 2016 presidential exploration. Former team owners and players appear alongside energy industry titans and state Republican rainmakers on a political advisory board made public on Thursday.
The disclosure of 85 donors is designed to show that Perry, who sought the 2012 Republican nomination, holds a strong position in the sprawling field of 2016 presidential contenders. RickPAC is the political committee paying for Perry's early campaign-style efforts.
Sports figures-turned-Perry fans include:
Red McCombs, former owner the San Antonio Spurs and two other professional sports teams
Peter Holt, co-owner, chairman and chief executive of the Spurs 
Charlie Amato, co-owner of the Spurs
Drayton McLane Jr., former chairman and chief executive of the Houston Astros
Jamie McCourt, former co-owner of the Los Angeles Dodgers
Cody Campbell, who played for the Indianapolis Colts
Perry, whose earlier presidential aspirations collapsed after his "oops" debate moment and other gaffes, made clear late last year that he's interested in another try. This time, however, he has competition for the Texas trove of Republican riches. Former Florida Governor Jeb Bush's brother was Perry's predecessor as the leader of the Lone Star State; Texas Senator Ted Cruz is considering a run; and Kentucky Senator Rand Paul can tap the fan base his father grew during a dozen terms as a Texas House representative.
RickPAC's advisory board signals to the others that Perry remains a favorite in some Texas circles. Other names include Roy Bailey, former finance chairman of the Texas Republican Party; Jim Leininger, a top state Republican donor; Doug Pitcock, a highway construction company owner and prominent state donor; John Steen, secretary of state under Perry; Bud Brigham, founder of a private oil and gas company in Austin; Stephen Chazen, chief executive of Occidental Petroleum in Houston; and Houston developers Welcome Wilson Sr. and Jr.
The advisory board was first reported Thursday by the Washington Post. "I am grateful and humbled to have the support of so many champions of conservative principles," the former governor told the Post in a statement.
Perry, whose post-2012 reboot includes hip glasses, also won over several important donors in the beautification industry. John Paul DeJoria, co-founder of the Paul Mitchell line of hair products, and Georgette Mosbacher, chief executive of the Borghese cosmetics line, are on the RickPAC advisory board.