Rick Perry's Donor List Is a Sports Almanac
The former Texas governor names his early money team in a bid to stay in the 2016 mix.
By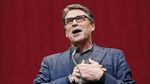 Former Texas Governor Rick Perry has drafted a lineup of sports figures to help finance his 2016 presidential exploration. Former team owners and players appear alongside energy industry titans and state Republican rainmakers on a political advisory board made public on Thursday.