Rand Paul Wants to Be a Uniter, Not a Divider, in Iowa
"Our goal is to bring people together," he tells the Des Moines Register.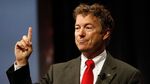 From the Des Moines Register:

Amid rumblings that old grudges are resurfacing in Iowa, Rand Paul says he just wants to play nice with all the GOP factions here.


"Our goal is to bring people together," Paul, a U.S. senator from Kentucky and likely presidential candidate, told The Des Moines Register in a telephone interview Thursday. "That's been my goal as I've traveled around the country. I've supported candidates from all sorts of segments of the party."

It's no secret that there was bad blood in the past between the so-called liberty movement (activists loyal to Paul's father, 2012 presidential candidate Ron Paul) and other factions in Iowa, especially the GOP establishment.

Now that a new Iowa Poll shows Rand Paul's growing strength here, there seems to be an orchestrated effort to rekindle some of that animosity toward the liberty movement — a faction that the younger Paul needs to keep close if he wants to do well in the Iowa caucuses a year from now.