RadioShack Files for Bankruptcy Protection
Dawn McCarty and Lauren Coleman-Lochner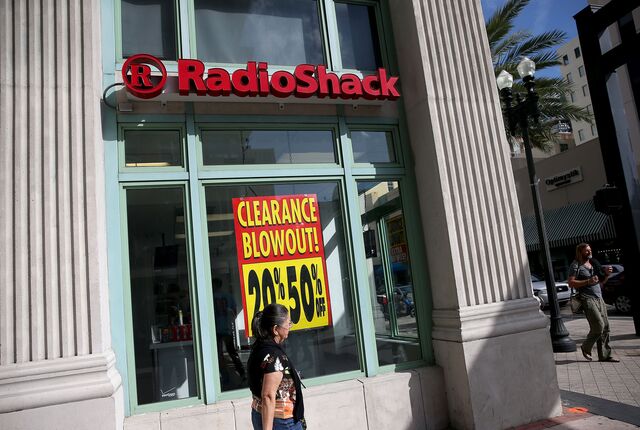 Photographer: Joe Raedle/Getty Images
RadioShack Corp., the 94-year-old consumer-electronics chain, filed for bankruptcy with a plan to turn about half of its 4,000 stores into Sprint Corp. locations and close the rest.
The company said Thursday that it has an agreement to sell 1,500 to 2,400 of its locations to a unit of Standard General LP, its biggest shareholder. Standard General has a deal with wireless carrier Sprint to set up stores-within-stores at as many as 1,750 locations. The rest will be shuttered under a deal with a liquidator, Hilco Merchant Resources.
"These steps are the culmination of a thorough process intended to drive maximum value for our stakeholders," Chief Executive Officer Joe Magnacca said in a statement Thursday.
The Chapter 11 filing in Delaware underscores the dramatic changes U.S. retailing has undergone since online merchants and big-box stores began supplanting traditional brick-and-mortar chains. The Sprint deal is especially telling, as RadioShack was one of the first mass-market retailers of mobile phones.
Industry Slump
The Fort Worth, Texas-based company has been trying to compete with Amazon.com Inc. and Wal-Mart Stores Inc. while at the same time coping with what Magnacca has called an industrywide slump in demand for consumer electronics.
Since taking over two years ago, Magnacca has changed the product mix and remodeled or closed some locations, to no avail. The company has reported 11 straight quarterly losses, and its shares dropped 86 percent last year.
The bankruptcy represents the endgame for a chain that traces its roots to 1921, when it began as a mail-order retailer for amateur ham-radio operators and maritime communications officers. The company was bought by Tandy Corp. in 1963.
It expanded into a wider range of products over the decades, and by the 1980s was seen as a destination for personal computers, gadgets and components that were hard to find elsewhere.
In 1977, it introduced the first mass-produced personal computer, the TRS-80, which was popular in high-school classes and earned the nickname "Trash 80." A decade later, it became one of the first retailers of mobile phones.
'The Shack'
In 2000, Tandy changed its name to RadioShack. An effort to rebrand the retailer as "The Shack" -- de-emphasizing the company's roots in 1920s technology -- was quickly abandoned.
Since joining in February 2013, Magnacca, a former executive at Walgreen Co., has tried to revive the company with "Let's Play!" a plan to make the retailer a "neighborhood technology playground."
He pared clutter, eliminated some small items and introduced interactive features, such as docks for Apple Inc.'s iPhone and walls of speakers. He also introduced the "Fix It Here" on-site repair service for mobile devices at hundreds of locations.
For all its struggles, the company still has some valuable assets, including a famous name that evokes nostalgia among hobbyists and locations at the heart of U.S. cities including New York, Chicago and San Francisco. Sprint and Standard General will be trying to build on that legacy.
Assets, Debt
The company listed assets of $1.2 billion and debt of $1.38 billion in documents filed Thursday in U.S. Bankruptcy Court in Wilmington. More than a dozen affiliates also sought court protection, including Tandy Finance Corp. and Atlantic Retail ventures.
Holders of RadioShack's 6.75 percent notes that mature in May 2019, owed $329.67 million, are listed as the largest creditors without collateral backing their claims. Other unsecured creditors include Sprint PCS, owed about $6.1 million; Assurant Service Protection Inc., owed about $4.1 million; and Verizon Wireless, owed about $2.9 million, according to court papers.
RadioShack plans to borrow as much as $285 million from its current lender group to provide liquidity during the sale process, according to the statement.
The case has been assigned to U.S. Bankruptcy Judge Kevin Carey in Wilmington, according to court filings. Carey oversaw the reorganization of Tribune Co., owner of newspapers and TV and radio stations.
Radio Shack filed motions for permission to continue paying its 21,000 employees. Those payments are about $11.5 million, according to the filings. The company also asked Carey to let it continue paying vendors to keep products flowing to stores.
The case is In re RadioShack Corp., 15-10197, U.S. Bankruptcy Court, District of Delaware (Wilmington).
Before it's here, it's on the Bloomberg Terminal.
LEARN MORE