Challenging Murdoch's Soccer Dominance
Rivals for U.K. sports programming take on Sky's big pay-TV service
By and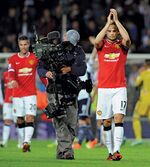 Rupert Murdoch's Sky was a money- losing upstart when it plunked down £304 million ($461 million) to air soccer matches from the new English Premier League almost 25 years ago. It proved to be one of Murdoch's smartest investments: Sky grew into the U.K.'s No. 1 pay-TV provider by allowing customers to watch exclusive sporting events at home and in their favorite pubs. Sky's dominance in broadcasting live matches went unchallenged for 15 years, until Setanta Sports and later ESPN briefly won some rights. Then in 2012, BT Group, the former telephone monopoly, bought the rights to air some Premier League games, including top Manchester United and Chelsea matches long telecast on Sky. The competition meant that Sky and BT paid a combined £3 billion (Sky's share was about £2.3 billion) for three seasons—a 70 percent jump from the previous auction total.
Bidding for the next round of Premier League rights is set to close on Feb. 6. Sky, 39 percent owned by Murdoch's 21st Century Fox, could lose even more control as BT and newcomers including Discovery Communications, the U.S. media company backed by John Malone, try to elbow in. After buying control of broadcaster Eurosport a year ago, Discovery has been bidding for soccer rights across Europe, and on Jan. 21 Chief Executive Officer David Zaslav flew to London to discuss his interest with Premier League officials.
"It's a very crucial period for Sky, as its business has been fundamentally built on these rights," says Ted Hall, senior TV analyst at researcher Ovum. Sky declined to comment on its sports rights or the auction.
Competition for sports rights in the U.K. and across Europe has intensified in recent years, as live games have become a proven way to attract large numbers of subscribers—and lucrative advertising deals. Sky has 10.7 million U.K. customers. "If Sky didn't have football exclusively, then they would probably lose a lot of its subscribers to competitors who are cheaper," says Alex DeGroote, an analyst at Peel Hunt. UBS estimates that 1.1 million Sky Sports customers would cancel their subscriptions if the company lost a majority of Premier League rights.
BT used the Premier League games it won in 2012 to help start BT Sport, three TV channels it offers free to broadband subscribers. The next year it paid £897 million for rights to air Champions League and Europa League soccer matches, games previously broadcast by Sky and another U.K. broadcaster, ITV.
"It's a definite nightmare if Sky loses," says Phil Lines, Premier League's former head of international broadcasting. "A huge number of Sky subscribers are subscribers because of the Premier League." He predicts the current auction's rights will fetch £4 billion. "It's the only thing that drives pay TV in this country."
Sky spends £2.6 billion a year on content for the U.K., including sports, its own entertainment productions, and rights to air Hollywood films. Of that, £766 million a year is spent on Premier League rights, plus £70 million annually on Champions League matches.
Berenberg Bank analyst Sarah Simon says Sky could have to pay 60 percent more for rights to the same number of soccer matches in the current auction. New entrants will likely keep driving up programming costs. Last June, Discovery made a failed €140 million ($161 million) bid for TV rights to Italy's Serie A soccer matches. Al Jazeera's BeIN Sports, which bested France's Canal Plus for most rights for Champions League soccer in Europe in the last round of bidding, is also believed to be targeting U.K. Premier League rights.
Winners of the current auction, for seven separate batches of games, could be announced as soon as bidding closes on Feb. 6. Says Peel Hunt's DeGroote: "Sky has run out of road in the U.K., and it's going to have to pay whatever possible to keep those sport rights."
The bottom line: Premier League soccer rights brought in £3 billion in a 2012 auction. Analysts expect a bigger haul this year.
Before it's here, it's on the Bloomberg Terminal.
LEARN MORE