Pfizer's Deal Speeds Push Into $20 Billion Biosimilar Market
Drew Armstrong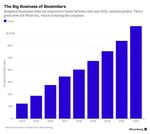 One reason Pfizer Inc. will spend $17 billion to buy Hospira Inc. is to become a market leader in so-called biosimilar medicines, which are cheaper versions of expensive biotechnology drugs.
Pfizer already has five biosimilars in development, according to the drugmaker's website, including versions of rheumatoid arthritis treatments like AbbVie Inc.'s Humira, which sold $12.5 billion in 2014, and Enbrel, which brought $4.69 billion to Amgen Inc. last year.
The market for biosimilars could be $20 billion a year by 2020, Pfizer and Hospira said in a statement announcing the deal today. "We believe that the market opportunities and the economic case for biosimilars remains strong," John Young, the head of Pfizer's established products business, said on a call with investors Thursday.
The drugs are a major focus for Hospira, which says it is the first American company to bring the drugs to market in Europe. The U.S. created a pathway to approve biosimilars as part of 2010's Patient Protection and Affordable Care Act, and estimates by the Rand Corporation say the cheaper drugs could save consumers $44 billion over the next decade.
Before it's here, it's on the Bloomberg Terminal.
LEARN MORE