Pfizer to Buy Hospira in Deal Valued at About $17 Billion
David Risser and Makiko Kitamura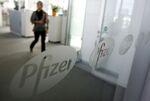 Pfizer Inc. agreed to buy Hospira Inc., the biggest provider of injectable drugs, in a transaction valued at about $17 billion, beefing up its roster of generic medicine ahead of a potential spinoff.
Pfizer will pay $90 a share in cash, the New York-based drugmaker said today in a statement, a 39 percent premium to Hospira's closing price Wednesday. That represents about 21 times earnings before interest, tax, depreciation and amortization, compared with an average multiple of 14 for U.S. generic drugmakers, according to Bloomberg Intelligence.
Buying Hospira will add a broad range of generic sterile injectable medicines to Pfizer's portfolio and bolster the company's strategy to offer more biosimilar drugs. That could help the biggest U.S. drugmaker head toward a company breakup, a shift in strategy after a failed $120 billion bid for AstraZeneca Plc last year.
"It's all about fattening up the established pharma business," said Sam Fazeli, an analyst at Bloomberg Intelligence in London. "This way they can get the established products into a much larger organization and potentially spin that off."
Pfizer has about $33 billion in cash and equivalents, leaving it with room to pursue further deals. Its shares jumped
3.2 percent to $33.10 in early trading. Hospira, based in Lake Forest, Illinois, rose 35 percent to $87.59.
Biosimilar Drug
The Hospira acquisition adds to Pfizer's collection of biosimilars -- imitations of expensive biologic drugs. Hospira and South Korean partner Celltrion Inc. developed a biosimilar copy of Johnson & Johnson's Remicade, a $7 billion arthritis therapy that was approved by European regulators in June 2013. Remicade is losing patent protection in several European markets this year.
Pfizer has been seeking its next blockbuster after a series of patent expirations. The company's sales have been falling from a $67.1 billion peak in 2010, the year after the drugmaker acquired Wyeth in a transaction valued at more than $60 billion.
Enhanced Portfolio
Pfizer "will benefit from a significantly enhanced product portfolio in growing markets," Ian Read, the company's chairman and chief executive officer, said in the statement.
The global market for generic sterile injectables is expected to reach $70 billion in 2020, Pfizer said, while the market for biosimilars may be $20 billion by that time.
The transaction will be financed two-thirds in cash, and one-third from new debt, Pfizer said. It should deliver $800 million in annual cost savings by 2018, according to the company. The company said it will be able to funnel Hospira's products through the vast distribution network of its Global Established Products business, also known as GEP.
The purchase will immediately add to Pfizer's earnings, with a gain of 10 cents to 12 cents predicted in the first full year after completion, Pfizer said. The deal is expected to close in the second half of the year.
"We like the immediate accretion and strategic fit with GEP's move towards longer duration growth assets," said Jeffrey Holford, an analyst at Jefferies Group LLC, in a note Thursday. "But even more important is the potential multiple uplift it likely gives GEP if it is separated from PFE in 2017."
Before it's here, it's on the Bloomberg Terminal.
LEARN MORE