Paulson & Co. Distressed Partner Kamensky Exits Hedge Fund
Kelly Bit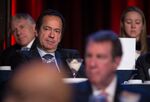 Dan Kamensky, a partner at Paulson & Co., has left billionaire John Paulson's hedge fund firm.
Kamensky, who joined $17.8 billion Paulson & Co. in 2009, played a key role in some of the firm's most profitable bankruptcy investments, including Lehman Brothers Holdings Inc. and Residential Capital LLC.
"Dan Kamensky decided to leave Paulson to pursue new opportunities," Paulson & Co. said today in a statement. "Dan contributed to successful distressed debt investments for the firm. We wish him the best in his new endeavors."
Kamensky didn't return telephone calls.
Last year Paulson called Lehman "the trade that keeps on giving" on a conference call with clients after his firm made more than $1 billion on its investment. Before joining Paulson & Co., Kamensky was a senior vice president at Lehman from 2005 to 2008, according to his LinkedIn profile.
Paulson, 59, shot to fame after making $15 billion on the housing crisis in 2007. He's struggled to regain his footing since 2011, when bets on the U.S. rebound went awry. Assets at the firm have dwindled to less than half of the $38 billion at the peak in 2011.
He barely broke even last year in a fund that bets on company mergers, which comprises about half of assets. The rest of his strategies, which include funds that invest based on company events such as spinoffs and bankruptcies, in credit assets and special situations, posted losses. Last year was the second-worst annual period for Paulson & Co. as a wrong-way energy bet added to declines tied to a failed merger and investments in Fannie Mae and Freddie Mac.
The firm's Paulson Partners fund, which invests in companies undergoing mergers, ended 2014 up 0.8 percent. Its credit opportunities fund slumped 4.5 percent and the event-driven Advantage fund fell 29 percent in 2014 and 36 percent in a leveraged version. A special situations fund dropped 18 percent last year.