Nothing Like a Quick $2.5 Billion to Draw a Crowd to Oil Bonds
Lisa Abramowicz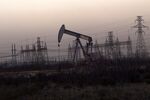 At last, there's an opportunity in the bond market to make a quick buck.
Oil prices are going nuts -- they're trading with the most volatility since April 2009, gaining as much as 5.9 percent today after entering a bull market earlier this week -- and high-yield debt is swinging in tandem. That has investors salivating.
This month, junk-rated energy bonds are winners. In the last four days, the $200 billion U.S. market's gained $2.5 billion in value. The average bond price climbed to 88 cents on the dollar yesterday from 83 cents in December, according to Bank of America Merrill Lynch index data. Of course, prices are still way down from last year's peak of 106 cents in June and may tumble again.
These kinds of moves are thrilling to traders who'd been getting bored from six years of record Federal Reserve stimulus suppressed yields and defaults.
"Oil's the most exciting thing to hit our markets since the 2008-9 timeframe," Jason Mudrick, chief investment officer of Mudrick Capital Management LP, said in a Feb. 3 Bloomberg Television interview this week. "It is a massive opportunity."
West Texas Intermediate for March delivery rose $2.53, or 5.22 percent, to $50.98 a barrel at 11:19 a.m. on the New York Mercantile Exchange. That brings it up more than 14 percent in the past week, even after posting an 8.7 percent plunge on Wednesday.
Seeing Opportunities
JPMorgan Chase & Co. and Marathon Asset Management LP are also perking up. Bruce Richards, chief executive officer of Marathon Asset Management, called energy "probably the greatest distressed opportunity that we've seen in the United States in some years" in a Bloomberg Television interview this week.
Bob Michele, who heads global fixed income at J.P. Morgan Asset Management, said in an interview this week that he's also "starting to look through some of the energy names that are in the high-yield market."
Who knows whether oil prices are actually stabilizing or whether they're headed lower still along with global growth? UBS Group AG predicted in a Jan. 28 report that 15 percent of high-yield energy bonds will default in the next year.
That warning is falling on deaf ears in a yield-starved market right now.
Before it's here, it's on the Bloomberg Terminal.
LEARN MORE