NATO Maps Eastern Defense Plan, With European Forces in Lead
James G. Neuger and Ian Wishart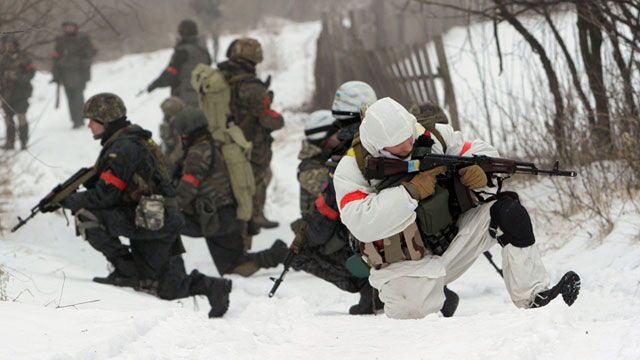 NATO will set up military headquarters and command centers stretching from the Baltic to Black seas to operate a new rapid-reaction force to defend eastern Europe against the increasingly assertive Russia.
Allied defense ministers fleshed out plans for a 5,000-man force that could start deploying within 48 hours and ultimately put 30,000 troops in the field, to be run by a rotating cast of European militaries.
The 28 allied countries will "ensure that we have the right forces in the right place at the right time," North Atlantic Treaty Organization Secretary General Jens Stoltenberg said Thursday after the meeting in Brussels. "We are taking these steps in response to our changed security environment."
Russia's seizure of Crimea and backing for rebels in eastern Ukraine brought NATO back to its original mission of self-defense after a decade of combat in places like Kosovo, Afghanistan and Libya. European governments -- starting with an interim force staffed by German, Dutch and Norwegian troops this year -- will take the lead in maintaining the force, responding to U.S. demands that Europe do more for its security.
The U.S. will send officers to the eastern headquarters and command units, and continue the troop rotations through frontline states that got under way last year after the Ukraine crisis erupted. The U.S. may also be called on to provide "enablers" for the readiness force such as airlift and reconnaissance that are in short supply in Europe. Around 75,000 U.S. troops are still stationed in Europe, down from more than 400,000 at the height of the Cold War.
NATO's Buildup
Russia has accused the U.S.-led alliance of aggressive intentions ever since NATO leaders gave the go-ahead for the reinforcements at a summit in Wales in September. In a revised military doctrine published in December, Russia called NATO's buildup near its borders a threat.
NATO will send a "signal of decisiveness and firmness," German Defense Minister Ursula von der Leyen said, adding Germany will contribute "its fair share." However, Germany has set no deadline to meet an allied target of spending 2 percent of gross domestic product on the military.
From bases in their home countries, troops in the new force will take two to seven days to move into action. It will replace an older force that was limited to 13,000 troops with far slower response times. The alliance said it will abide by a 1997 pledge to Russia not to base "substantial combat forces" near Russia's borders.
U.K. Leads
Leadership of the brigade-size land force will rotate among Britain, France, Germany, Italy, Poland and Spain. Backed by air, sea and special forces units, its capability will be gradually increased until it's declared "fully operational" in 2017, when the U.K. is in charge.
NATO will expand a corps headquarters in Szczecin, in northwestern Poland on the German border, and is considering setting up a divisional headquarters in Romania. Command-and-control units with about 40 soldiers each will be set up in the three Baltic republics plus Poland, all of which border Russia. Romania and Bulgaria will host command units.
NATO tightened its cooperation with Georgia, on Russia's southern border. Georgia, which aims to join the alliance, fought a war against Russia in 2008 and two of its territories, South Ossetia and Abkhazia, are under Russian occupation.
Stoltenberg denounced Russia's attempt to strengthen control over those territories as "part of a pattern" of intimidating neighboring countries. He said a NATO-Georgia joint military training center to be set up near the capital, Tbilisi, poses no threat to Russia because it's "not a military base."
Before it's here, it's on the Bloomberg Terminal.
LEARN MORE